Despite his Aleppo gaffe earlier this month and his second "Aleppo moment" this week, one-time Republican presidential contender Jeb Bush is reportedly considering casting his ballot for Libertarian candidate Gary Johnson.
According to a report from the New York Daily News, the former Florida governor suggested several times Wednesday during a private luncheon that he might be voting for Johnson over Democratic nominee Hillary Clinton and Republican candidate Donald Trump, with whom he competed in a bruising primary process.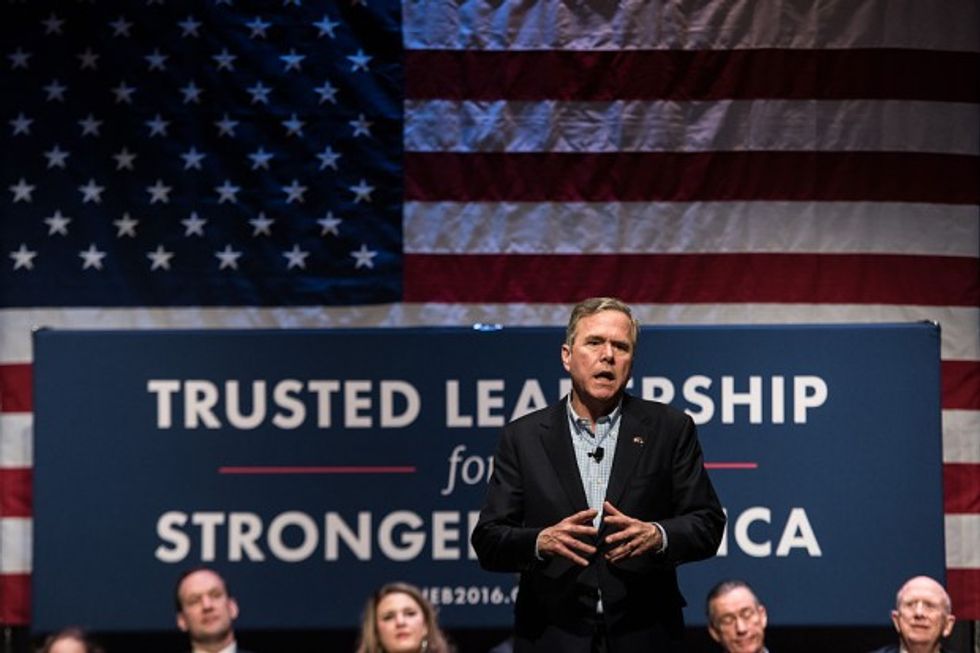 Sean Rayford/Getty Images
Throughout the Manhattan Institute luncheon, which was focused on education reform, inside sources told the Daily News that Bush joked frequently about "President Johnson" and went so far as to urge one undecided voter to cast his ballot for the former two-term governor of New Mexico.
"There was an old man talking to Jeb across the table and said, 'I can't bring myself to vote for Hillary and Trump,' and Jeb looked at him and mouthed the word 'Johnson,' silently," an observer told the outlet.
Bush also quipped about Johnson becoming president during his speech at the event.
"If I did get a call several weeks after the election, what would I tell President Johnson — I mean, President whoever," he reportedly said.
While a spokeswoman for the vanquished presidential candidate did not dispute the validity of the report, she did not indicate Bush is, in fact, supporting Johnson this November.
"Nothing has changed since the Governor wrote [a Washington Post] op-ed a couple months ago saying he couldn't support Hillary or Trump. He has said he would consider voting for the Libertarian ticket. No decision/update though," Kristy Campbell told the Daily News via email.
Over the past few weeks, Johnson has made headlines for foreign policy blunders. When asked on MSNBC about Aleppo, Syria, the epicenter of the global refugee crisis, the Libertarian nominee seemed unfamiliar with the city. Then again Wednesday, in a town hall on the same network, Johnson had trouble naming a foreign leader he admired, dubbing the struggle another "Aleppo moment."
Earlier this month, Bush's father, former President George H.W. Bush, made national headlines when it was revealed that he will be voting for Clinton on Election Day.
The latest RealClearPolitics average shows Johnson polling nationally at 7.2 percent, significantly trailing Clinton and Trump, who are at 43.9 and 41 percent, respectively.
—
Follow the author of this story on Twitter: