South Carolina Sen. Lindsey Graham took to Facebook Thursday to declare that, for one of the few times in his life, he is glad a flight was canceled.
The Republican lawmaker said he left the airport Wednesday evening feeling "tired, frustrated and like every other passenger, just ready to get home" to Greenville, South Carolina. Yet on Thursday, the feeling of frustration disappeared.
A little more than 20 miles away from Greenville-Spartanburg International Airport is Townville Elementary School, the site of a school shooting Wednesday. A 14-year-old boy is in police custody after he shot one teacher and two 6-year-old students. One of the children remains in the hospital critically injured and fighting for his life.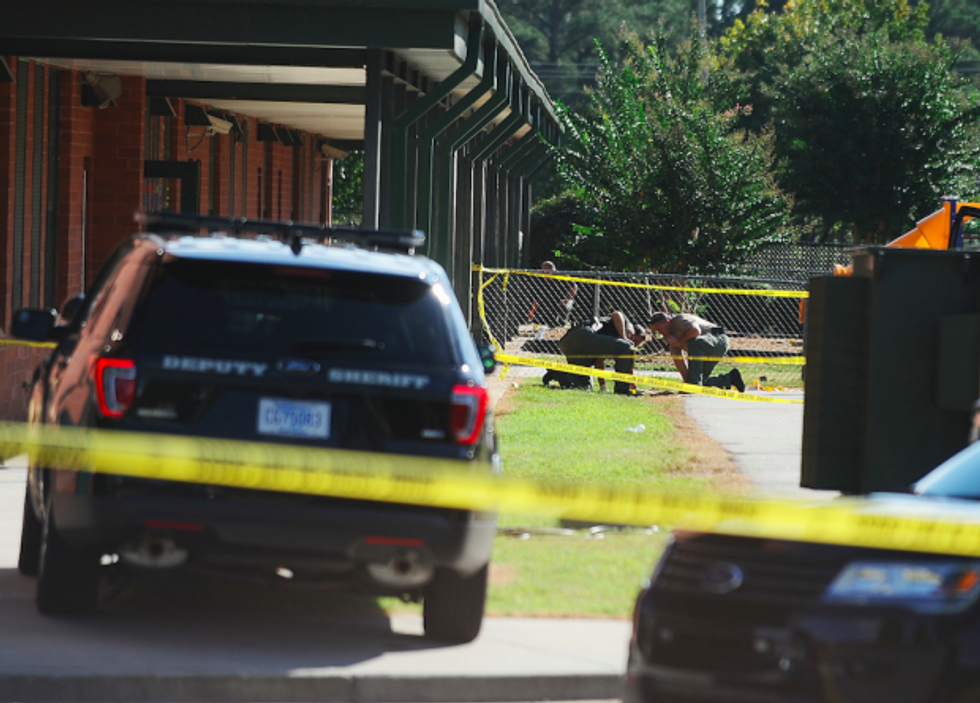 Members of law enforcement investigate an area at Townville Elementary School in South Carolina. (AP Photo/Rainier Ehrhardt)
On Thursday, Graham finally boarded a flight back to his home state and by happenstance sat next to Army Capt. D.J. Fredericks who is doing his residency at Walter Reed Hospital.
Fredericks' mother, Denise, is the principal of Townville Elementary.
Graham detailed in his Facebook post that he was able to speak with Denise Fredericks by phone before his plane took off Thursday morning. In their conversation, the principal praised her teachers, the school nurse and the volunteer firefighter who subdued the teenager until police arrived.
"She constantly stressed how proud she was of her teachers, students and how much she was praying for their recovery," Graham wrote.
"She told me they had just practiced — last Friday — a drill involving a shooter," the senator continued. "I could tell from her voice she was shaken and heart-broken, but also grateful and proud. All she wanted to talk about was the heroic actions of others."
Graham iterated the principal's message of prayer for Jacob Hall, the 6-year-old boy who remained hospitalized in critical condition as of Thursday afternoon.
"There is a lot of tragedy in the world but also a lot of good," Graham said. "All the teachers, school nurses, firefighters, and others who responded to yesterday's events — as well as people like D.J. serving our nation in uniform — represent the good in our world."
He concluded, "And for one of the few times in my life, I can say I'm glad my flight was cancelled."
Read Graham's entire post below.
—
Follow Kaitlyn Schallhorn (@K_Schallhorn) on Twitter