Democratic presidential candidate Hillary Clinton denied reports Tuesday that she once proposed carrying out a drone strike against WikiLeaks founder Julian Assange.
"I don't know anything about what he is talking about, and I don't recall any joke," Clinton said at a press conference in Pennsylvania. "It would have been a joke if it had been said, but I don't recall that."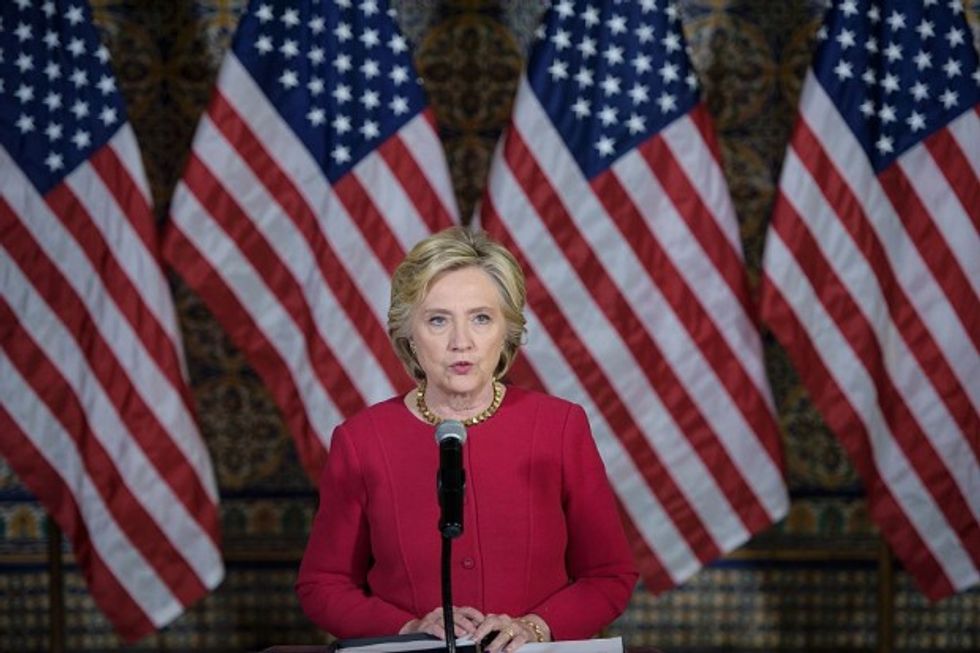 Democratic presidential nominee Hillary Clinton speaks at a voter registration rally at Zenbo Shrine in Harrisburg, Pennsylvania, Tuesday. (Brendan Smialowski/AFP/Getty Images)
The website TruePundit posted a piece Sunday claiming that, in 2010, then-Secretary of State Clinton proposed a drone strike against Assange to prevent WikiLeaks from releasing government information. TruePundit's allegation was based on unnamed State Department sources:
"Can't we just drone this guy?" Clinton openly inquired, offering a simple remedy to silence Assange and smother Wikileaks via a planned military drone strike, according to State Department sources. The statement drew laughter from the room which quickly died off when the Secretary kept talking in a terse manner, sources said. Clinton said Assange, after all, was a relatively soft target, "walking around" freely and thumbing his nose without any fear of reprisals from the United States.
WikiLeaks touted TruePundit's claim on Twitter:
Hillary Clinton on Assange "Can't we just drone this guy" -- report https://t.co/S7tPrl2QCZ pic.twitter.com/qy2EQBa48y

— WikiLeaks (@wikileaks) October 3, 2016
The veracity of TruePundit's story was called into question by many reporters. And Clinton campaign manager Robby Mook told WTTG-TV on Monday that he is "reticent to comment on anything that the WikiLeaks people have said."
"They've made a lot of accusations in the past," Mook said.
WikiLeaks was expected by some to release damning information about Clinton earlier this week, but failed to do so.
Hillary Clinton: If I talked about droning Julian Assange, "it would have been a joke." pic.twitter.com/WuMI2p080M

— Washington Examiner (@dcexaminer) October 4, 2016
—
Follow the author of this story on Twitter and Facebook: