During Tuesday night's sole vice presidential debate, Democratic vice presidential nominee Tim Kaine defended his support of abortion by challenging his competitor: "Why don't you trust women?"
"Governor, why don't you trust women to make this choice for themselves," Kaine impugned Tuesday night as his opponent Mike Pence (R-Ind.) was arguing in favor of adoption over abortion.
While Kaine's question was heralded by some as the "best question" in the debate and one of the Virginia senator's "stronger" moments, anti-abortion groups and activists fired back Wednesday against the "talking point."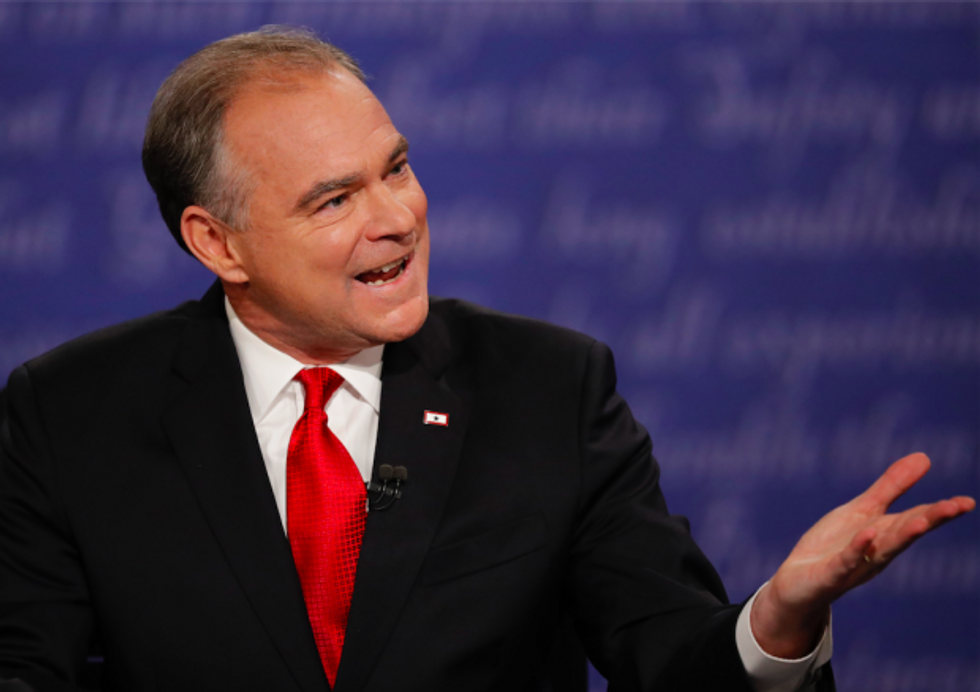 Democratic vice presidential nominee Sen. Tim Kaine speaks to Republican vice presidential nominee Gov. Mike Pence during the debate at Longwood University in Farmville, Virginia, Tuesday. (AP Photo/Julio Cortez)
"When you work in the pro-life movement and you start to talk to women who have had abortions and you start to understand how many of them have felt coerced into that decision by their families or boyfriends or partners, you really see through this talking point of the other side," said Mallory Quigley, communications director for the anti-abortion nonprofit Susan B. Anthony List.
"No one would choose to end the life of their child if they felt they were supported by their communities and had the resources available to them to choose life," Quigley told TheBlaze in an interview following the debate.
March For Life President Jeanne Mancini said in a statement to TheBlaze that she was happy to see the vice presidential candidates bring up "life issues" as she sat in Longwood University's auditorium.
"I thought that Senator Kaine's views on life and abortion lacked a sense of integration," Mancini said. "On one hand, early in the night the senator said that when elected, a politician should enact what he/she believed before running for office yet on the other hand has reconciled being pro-life with his 100 percent pro-abortion voting record."
She added, "It didn't make sense."
During the debate, Kaine noted that many younger voters weren't alive during the landmark Roe v. Wade Supreme Court decision that legalized abortion in 1973.
However, Students for Life of America, an anti-abortion nonprofit that focuses on high school and college-aged students, released a video message Wednesday in response to Kaine in which the organization argued that abortion "is not about trusting women, it's about human rights."
"We have news for you, Senator Kaine. We trust women to make all sorts of decisions," said Lisa Stover, the organization's national programs coordinator. "We support their choice in careers, their choice of healthcare, their choice of who to marry, their choice of schooling and the list goes on and on."
"But when it comes to abortion, it's not about trusting women to make a personal choice because abortion is not a merely personal choice," the young woman continued. "Senator Kaine, you say that the pre-born are human beings so why are you denying them human rights?"
But while anti-abortion advocates criticized Kaine's remarks, pro-choice advocates capitalized on the Virginia senator's question.
.@mike_pence doesn't trust women to make their own reproductive health care decisions. #VPDebate #NotMyTicket pic.twitter.com/zrCU9xoPvD

— Planned Parenthood (@PPact) October 5, 2016
.@timkaine: "We trust American women." #LoveTrumpsHate pic.twitter.com/HfWPRgT0NT

— Cecile Richards (@CecileRichards) October 5, 2016
.@HillaryClinton & @timkaine #TrustWomen. @realDonaldTrump & Mike Pence want to punish them. #VPDebate #WontBePunished pic.twitter.com/EkfJb5mHnk

— NARAL (@NARAL) October 5, 2016
Besides Kaine's question regarding trusting women, anti-abortion groups echoed Pence who hit Kaine on his ticket's supposed support of partial-birth abortion Tuesday night.
"What I can't understand is how Hillary Clinton — and now Sen. Kaine at her side — is to support a practice like partial-birth abortion," he said from the debate stage in Farmville, Virginia. "The very idea that a child that is almost born into the world could still have their life taken from them is just anathema to me."
Quigley, too, asserted that both Clinton and Kaine "support abortion on demand up until the moment of birth paid for by taxpayer dollars."
"That goes so far beyond the little talking point of trusting women," she said.
David Daleiden, the founder of the Center for Medical Progress, said:
It's shocking to everyday Americans that in 2016, there are still candidates like Hillary Clinton and Tim Kaine who support barbaric policies like partial-birth abortion, abortions of viable babies all through nine months, taxpayer funding abortions, and selling baby body parts at Planned Parenthood mega-clinics.

The abortion industry's commodification of our brothers and sisters reverberates back and makes everyone choose, on some level, whether we really believe 'all men are created equal.'
In terms of Clinton's position on partial-birth abortion, she has only said that she is "in favor of a late pregnancy regulation that would have exceptions for the life and health of the mother."
TheBlaze's Kate Scanlon contributed to this report. 
—