Former Iowa Lt. Gov. Patty Judge, a Democratic candidate for the Senate, acknowledged that she is "really not clear" on "what a sanctuary city is" during a recent meeting with the editorial board at the Sioux City Journal.
Judge, who is challenging incumbent Republican Sen. Chuck Grassley, was asked by the Journal if she would support denying federal aid to sanctuary cities.
"Well, you know I am really not clear, in my mind, what a sanctuary city is," Judge replied. "And I guess there are cities that—"
A member of the Journal's editorial board interjected, giving Judge the example of San Francisco as a sanctuary city.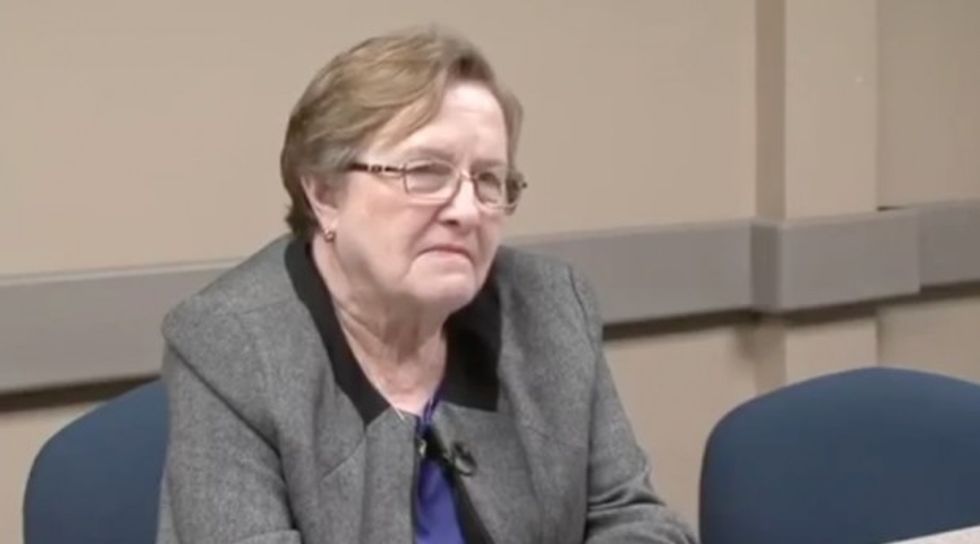 Former Iowa Democratic Lt. Gov. Patty Judge (Image source: YouTube)
"And why do they qualify — what do they do that makes them a sanctuary city?" Judge said. "I've actually asked my staff the same—"
A board member interjected again, explaining to Judge that a sanctuary city "limits the extent to which they must cooperate with federal immigration officials."
"I guess part of that that I really don't understand is how do they have the authority to not cooperate?" Judge asked.
"Good question," a member of the board replied.
"Yeah, I don't understand that," Judge said.
The editorial board also asked Judge about her position on Sarah's Law, legislation introduced by Grassley alongside fellow Iowa Republican Sen. Joni Ernst and Nebraska Republican Sens. Deb Fischer and Ben Sasse. The bill would require U.S. Immigration and Customs Enforcement to take custody of any immigrants in the country illegally who are charged with a crime that resulted in the death or serious injury of another person.
The bill was named for Sarah Root, 21, an Iowan who was killed earlier this year by a drunk driver who was in the country illegally.
Judge said she wasn't familiar with the legislation.
"I will look at it," she said. "I will look at it."
In a statement provided to TheBlaze, Grassley campaign manager Bob Haus said, "Patty Judge's stunning lack of basic knowledge about critically important issues furthers proves how unqualified she is to represent Iowa in the United States Senate." Haus continued:
Sanctuary city policies undermine the rule of law and provide safe haven to dangerous criminals, and Judge's total lack of understanding about this ongoing problem is deeply troubling for someone running for federal office. At a bare minimum, Iowa deserves elected officials that are at least aware of the problems we face as a state and as a nation, not someone who is so unprepared to serve that she has to be schooled about the job.
A spokesperson for the Judge campaign did not immediately return TheBlaze's request for comment seeking clarification on her position.
According to a Real Clear Politics average of polls, Judge currently trails Grassley by more than 13 percentage points.
—
Follow the author of this story on Twitter and Facebook: