Libertarian presidential nominee Gary Johnson said Wednesday he sees a moral equivalence between the Syrian government's intentional targeting of its own people during the country's civil war and the accidental bombing of noncombatants by U.S.-backed forces.
The topic came up during an interview with the New York Times, when Johnson began criticizing Democratic presidential rival Hillary Clinton for her interventionist record at the State Department, noting not only the killings carried out by forces aligned with Syrian President Bashar al-Assad, but also the civilian deaths caused by American action in the country.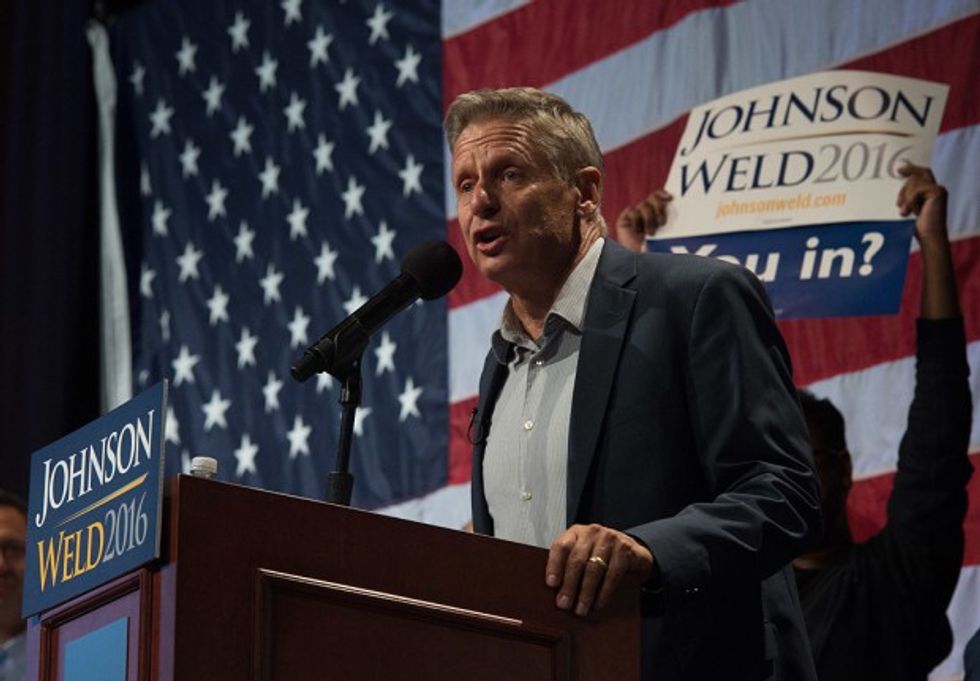 BRYAN R. SMITH/AFP/Getty Images
Times reporter Maggie Haberman gave the former two-term New Mexico governor four chances to clarify his remarks, but Johnson stood by his assertion that there is a parallel between the unintentional results of the United States' action and Assad's record of mass killing.
"Well no, of course not — we're so much better than all that," Johnson remarked sarcastically. "We're so much better when in Afghanistan, we bomb the hospital and 60 people are killed in the hospital."
He told Haberman that Clinton "bears responsibility for what's happened, shared responsibility for what's happened in Syria," adding, "I would not have put us in that situation from the get-go."
This latest comment follows a series of foreign policy blunders by the Libertarian candidate. Last month, Johnson stunned an MSNBC panel when he seemed unfamiliar with the Syrian city of Aleppo, the epicenter of the refugee crisis.
Again, in late September, Johnson had what he referred to as another "Aleppo moment" on the same network. During a town hall event with MSNBC's Chris Matthews, the long-shot presidential candidate was unable to name a world leader he admires.
During the interview with the Times, Johnson seemed to be doing all he could to avoid another gaffe. When he was asked if he knew the name of North Korea's leader, he simply responded, "I do."
He asked if Haberman wanted him to name the infamous dictator, but fell short of actually doing so.
—
Follow the author of this story on Twitter: