Planned Parenthood Votes announced Friday that they have launched an ad campaign alongside Priorities USA targeting Republican presidential nominee Donald Trump in the swing states of North Carolina, Nevada and Pennsylvania.
The reportedly seven-figure campaign features an ad stating that Trump is "too dangerous for women" because he would ban abortion, defund Planned Parenthood and appoint Supreme Court justices who would overturn Roe v. Wade, the 1973 Supreme Court case that legalized abortion nationwide.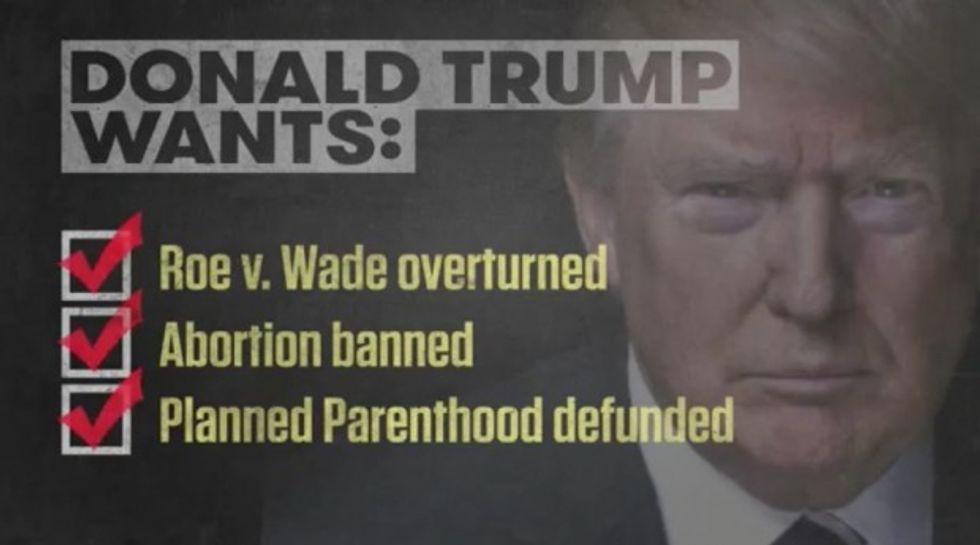 Image source: YouTube
Deirdre Schifeling, the executive director of Planned Parenthood Votes, said in a statement, "This is the most anti-woman ticket we've seen in decades." She continued:
Donald Trump would ban abortion, defund Planned Parenthood, and even make it more difficult to access birth control. His running mate Mike Pence has been on a personal crusade to end women's access to basic health care for a decade -- putting countless women at risk in his home state of Indiana and nationwide. We will not let Mike Pence and Donald Trump strip rights away from the women of America. Planned Parenthood Votes will not rest until every eligible voter knows just how dangerous Trump and Pence would be for this country.
The ad is set to begin airing Monday and will run through Election Day.
Since securing the Republican nomination, Trump and his running mate, Indiana Gov. Mike Pence, have made a series of commitments to pro-life policy proposals, including nominating pro-life justices to the Supreme Court and making permanent the Hyde Amendment, which prevents taxpayer funding from going toward abortion procedures.
As a candidate in the Republican primary, however, Trump defended Planned Parenthood, arguing that the organization "does some very good work" for women. And prior to his candidacy, Trump called himself "pro-choice in every respect." He now describes himself as pro-life.
Watch the ad:
—
Follow the author of this story on Twitter and Facebook: