In the hours since the release of 2005 video depicting Donald Trump speaking explicitly about women, several prominent Republicans have rebuked the GOP presidential candidate for his words, some even demanding he exit the race for the White House altogether.
In the video, Trump can be heard telling Billy Bush, then host of "Access Hollywood," that he could "do anything" to women because he's a "star," including "grab them by the p***y."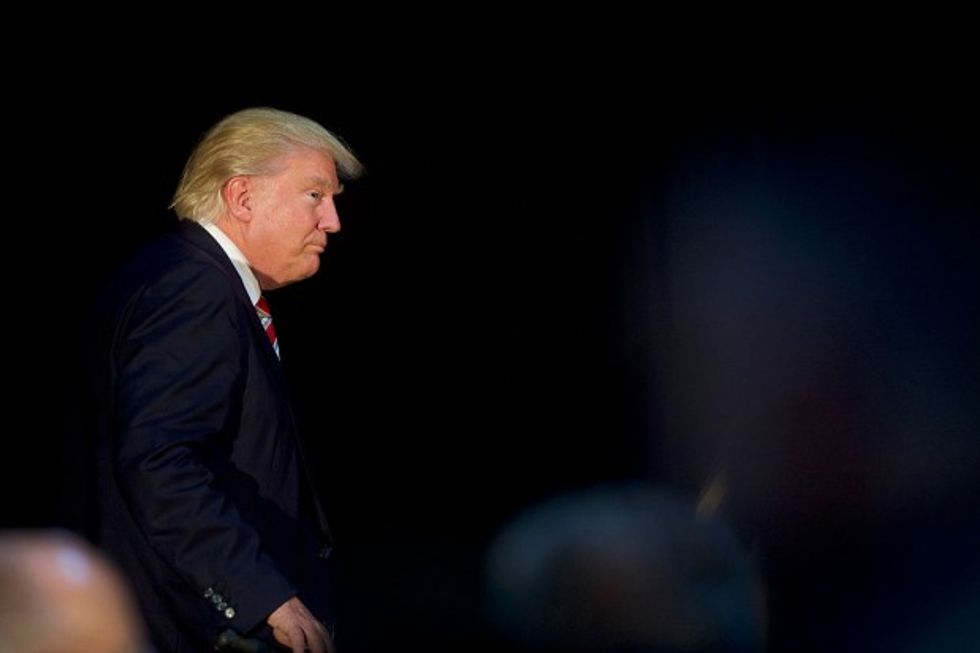 Republican presidential hopeful Donald J. Trump at the Aston Township Community Center on September 13, 2016 in Aston, Pennsylvania. (Mark Makela/Getty Images)
House Speaker Paul Ryan (R-Wis.) said late Friday he is "sickened" by Trump's comments. He also disinvited him from a scheduled campaign event in Wisconsin, where he was slated to appear with the speaker and Republican National Committee chairman Reince Priebus.
Senate Majority Leader Mitch McConnell (R-Ky.), a senior Republican leader, called Trump's words "repugnant and unacceptable in any circumstance."
"As the father of three daughters, I strongly believe that Trump needs to apologize directly to women and girls everywhere, and take full responsibility for the utter lack of respect for women shown in his comments on that tape," he said in a statement.
Liz Cheney, daughter of former Vice President Dick Cheney and Wyoming Republican Senate candidate, offered a similar reaction.
As the mother of three daughters & two young sons, I'm disgusted by Trump's "locker room banter." His appalling comments are indefensible.

— Liz Cheney (@Liz Cheney) 1475892265.0
Washington Rep. Cathy McMorris Rodgers, the highest ranking Republican woman in the House of Representatives, called Trump out, saying it is "never appropriate to condone unwanted sexual advances or violence against women."
"I have said before that I would not hesitate to voice my disagreement with Mr. Trump when he says something that I believe should not be part of our political dialogue," she said in a statement. "[M]r. Trump must realize that [those comments have] no place in public or private conversations today or in the past."
Likewise, New Hampshire Sen. Kelly Ayotte (R), who is running for re-election and has worked to distance herself from Trump's comments in the past, condemned the Republican standard-bearer's remarks, calling them "totally inappropriate and offensive."
See the video of Trump's explicit comments:
As TheBlaze previously reported, Priebus, who last month floated the idea of penalizing Republicans who don't support Trump, offered a brief but stern statement: "No woman should ever be described in these terms or talked about in this manner. Ever."
Along with him, a torrent of other GOP leaders took a stand against Trump.
Arizona Sen. Jeff Flake took to Twitter to write that the U.S. "deserves far better than" Trump, while Ohio Gov. John Kasich, a one-time contender for the Republican presidential nomination, wrote, "Make no mistake the comments were wrong and offensive. They are indefensible."
And former Florida Gov. Jeb Bush, perhaps Trump's bitterest rival in the Republican primary, wrote, "As the grandfather of two precious girls, I find that no apology can excuse away Donald Trump's reprehensible comments degrading women."
Mitt Romney, the 2012 Republican presidential nominee, rebuked Trump for his "vile degradations."
Hitting on married women? Condoning assault? Such vile degradations demean our wives and daughters and corrupt America's face to the world.

— Mitt Romney (@Mitt Romney) 1475885406.0
But Illinois Sen. Mark Kirk, a sitting Republican lawmaker, offered perhaps the boldest rebuke, referring to Trump as a "malignant clown unprepared and unfit to be president of the United States." He also demanded the GOP "engage rules for emergency replacement."
DJT is a malignant clown - unprepared and unfit to be president of the United States.

— Mark Kirk (@Mark Kirk) 1475883322.0
.@realDonaldTrump should drop out. @GOP should engage rules for emergency replacement.

— Mark Kirk (@Mark Kirk) 1475887572.0
And former Utah Gov. Jon Huntsman, a 2012 candidate for the Republican presidential nomination, called on Trump to drop out of the race for the presidency one week after saying he would vote for the brash billionaire businessman. Huntsman said Mike Pence, Trump's running mate, should lead the GOP ticket.
"In a campaign cycle that has been nothing but a race to the bottom — at such a critical moment for our nation — and with so many who have tried to be respectful of a record primary vote, the time has come for Governor Pence to lead the ticket," he told The Salt Lake Tribune.
In addition, Texas Sen. Ted Cruz, who challenged Trump in the Republican primary and also recently endorsed the real estate developer, condemned the offensive remarks as "disturbing and inappropriate."
These comments are disturbing and inappropriate, there is simply no excuse for them.

— Ted Cruz (@Ted Cruz) 1475890552.0
Every wife, mother, daughter -- every person -- deserves to be treated with dignity and respect. https://t.co/AVSEBastVc

— Ted Cruz (@Ted Cruz) 1475890589.0
Arizona Sen. John McCain, the 2008 Republican presidential nominee, said in a statement there are "no excuses" for Trump's lewd comments.
"There are no excuses for Donald Trump's offensive and demeaning comments," he said. "No woman should ever be victimized by this kind of inappropriate behavior. He alone bears the burden of his conduct and alone should suffer the consequences."
While it is yet unclear how the Trump campaign plans to tackle this issue, it is obvious the video is already having a big impact. Democratic presidential nominee Hillary Clinton not only condemned the comments, but also moved quickly to capitalize politically on the moment.
Women have the power to stop Trump. https://t.co/tTgeqy51PU https://t.co/VH3woeAf9Q https://t.co/NjvbkPsjPR

— Hillary Clinton (@Hillary Clinton) 1475884475.0
This news comes ahead of Sunday's second presidential debate, where this ordeal will most certainly be discussed.
—