Republican nominee Donald Trump has no plans to drop out of the 2016 race for the White House, he told multiple media outlets on Saturday.
Trump told the Wall Street Journal that there is "zero chance" he'll step down as the GOP nominee, despite pressure from dozens of influential conservatives and Republicans, including multiple state governors, senators and members of the House.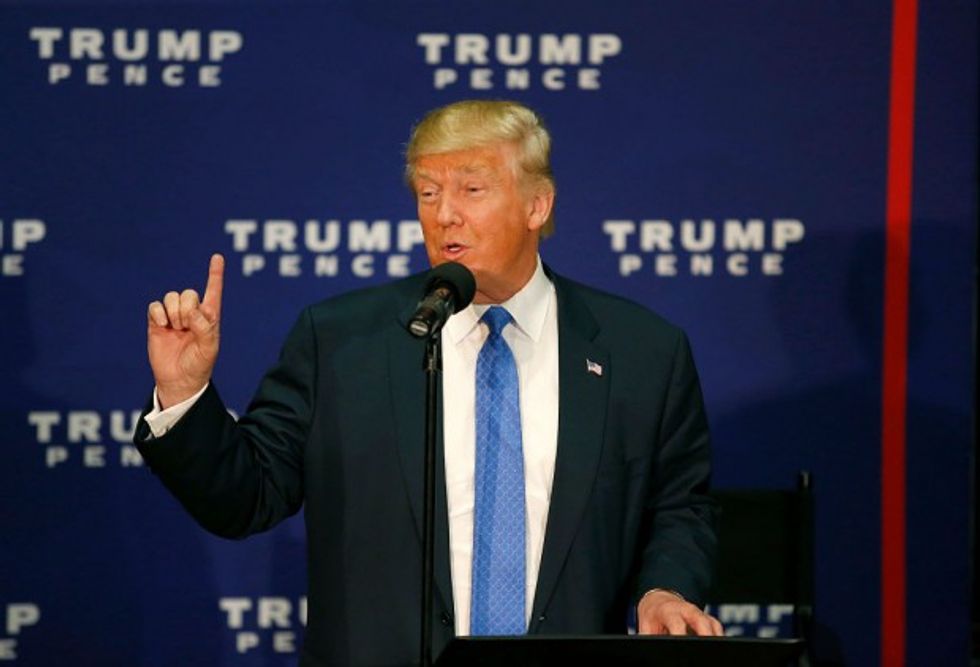 Getty Images/Mary Schwalm/AFP
"I never, ever give up," Trump said, adding that his campaign allegedly isn't in a crisis. "The support I'm getting is unbelievable, because Hillary Clinton is a horribly flawed candidate."
The billionaire businessman reiterated his sentiment in a subsequent interview with the Washington Post earlier Saturday.
"I'd never withdraw. I've never withdrawn in my life," Trump told the Post. "No, I'm not quitting this race. I have tremendous support."
"People are calling and saying, 'Don't even think about doing anything else but running,'" he added. "You have to see what's going on. The real story is that people have no idea about the support. I don't know how that's going to boil down, but people have no idea about the support."
Trump was also defiant on Twitter Saturday, first tweeting in the morning that the past 24 hours had been "interesting." He letter posted to Twitter, in nearly all caps, that he will not be dropping out of the race.
Certainly has been an interesting 24 hours!

— Donald J. Trump (@realDonaldTrump) October 8, 2016
The media and establishment want me out of the race so badly - I WILL NEVER DROP OUT OF THE RACE, WILL NEVER LET MY SUPPORTERS DOWN! #MAGA

— Donald J. Trump (@realDonaldTrump) October 8, 2016
The scandal began Friday when the Washington Post published a bombshell story detailing lewd comments Trump made about women — including things he allegedly did to them — in 2005.
—
Follow the author of this story on Twitter and Facebook:
[facebook //www.facebook.com/plugins/like.php?href=