According to the AP, former Senator and current United State Senate Candidate Evan Bayh (D-IN) spent a substantial portion of his the final year of his first term searching for a job in the private sector, and voting on bills that could have impacted his prospective employers.
Bayh was initially elected to the Senate in 2004, and surprised many political observers when he announced his retirement after one term in February of 2010. Republican Dan Coats ultimately won the the election to replace Bayh in the Senate. Bayh is currently considered a slight favorite to win his seat back in a tight race against former Marine Todd Young (R).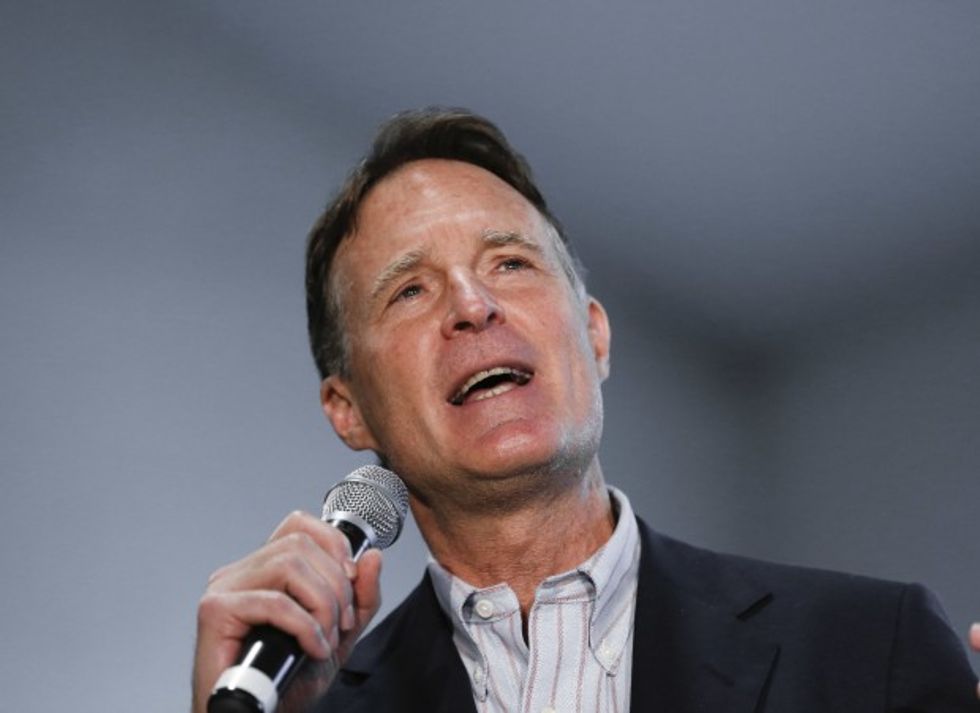 In this photo taken May 1, 2016, former Indiana Sen. Evan Bayh speaks in Indianapolis. Bayh is expected to make another run for Senate in Indiana, Democratic officials said Monday, July 11, 2016, a development that would dramatically improve the party's chances to win back the vacant seat, and Senate control along with it. (AP Photo/Paul Sancya) 
The revelations are sure to damage Democrats' chances of retaking the Senate, which depend on a Bayh victory in November. According to the AP, Bayh voted on a number of bills that were the subject of intense lobbying efforts by his prospective employers during his final year:
In June 2010, Bayh was among a small group of Democrats who helped kill a tax increase on private equity gains, known as carried interest, that was opposed by Apollo Global Management. That fall he stayed overnight three times at one Apollo executive's Central Park South residence in Manhattan, and met twice with the company's chief executive, Leon Black.

Weeks after Bayh left the Senate, Apollo announced he had been hired as a senior adviser.

In May 2010, Bayh lunched with a Marathon Oil board member. Then in June, he and a minority of Democrats joined with Republicans to defeat an amendment by Sen. Bernie Sanders, I-Vt., that would have eliminated billions in tax deductions and exemptions for oil and gas companies.

Marathon Petroleum Corp., a new Marathon spinoff, announced Bayh had been elected to its board in July 2011.
Senate ethics rules at the time required Bayh to disclose negotiations concerning potential jobs only if a firm job offer had been made. Because Bayh did not receive firm job offers before voting on these bills, he was not technically required to disclose his activity with these companies.
However, even Democratic ethics watchdog organizations have condemned Bayh's manipulation of the system:
Because he never filed a disclosure form, Bayh never triggered a related requirement to withdraw from official matters that might have constituted a conflict of interest.

"It's outrageous," said Craig Holman, a lobbyist with Public Citizen who helped Democrats write the ethics language intended to eliminate conflicts of interest. "What we were unaware of at the time was how Congress would manipulate the rule so that they really don't abide by it."
It remains to be seen how this disclosure will affect one of the most tightly contested Senate races in the country.