The first questions at Sunday's presidential debate between Donald Trump and Hillary Clinton will be about Trump's latest scandal and the subsequent fallout, according to a report from CNN.
The first question will reportedly be given to Clinton. A coin flip by the Commission on Presidential Debates determined who would speak first.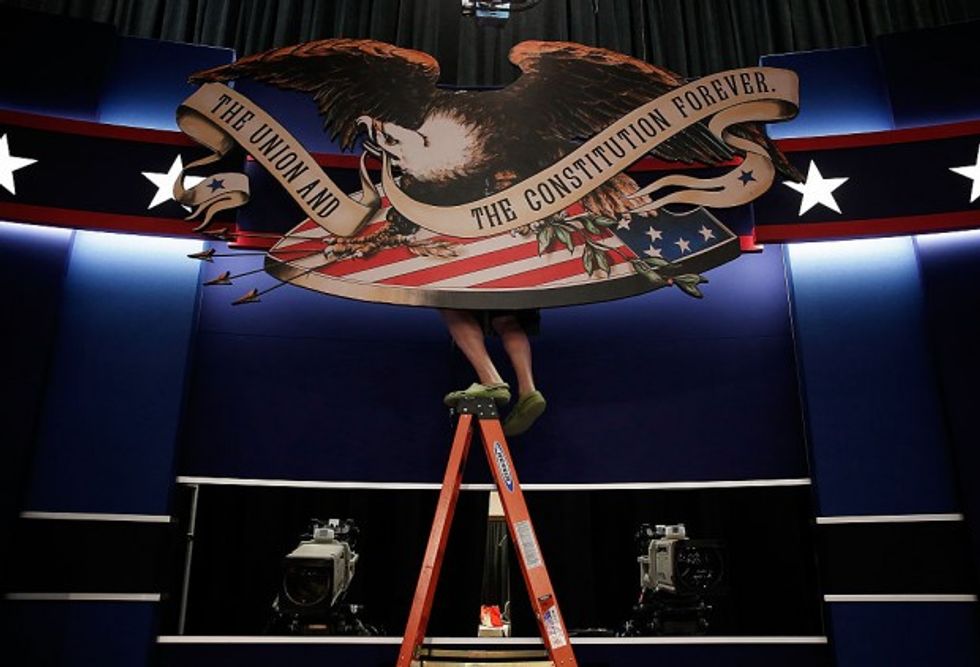 Workers prepare the stage for the second presidential debate at Washington University on Sunday. (Getty Images/Win McNamee)
Sources told CNN that debate moderators — CNN's Anderson Cooper and ABC's Martha Raddatz — adjusted their debate plan following the bombshell story from the Washington Post on Friday, which reported the extremely lewd comments Trump made about women in 2005.
Sunday's debate format will be "townhall style" with participation from participants that were selected by polling firm Gallup. There will be 44 participants on stage.
More from CNN:
The participants submitted their questions to the moderators on Sunday morning, which means they have had time to include questions about the Trump tape; the ensuing crisis within the Republican party; and Trump's response, which included invoking Bill Clinton's past infidelity.

Raddatz and Cooper are meeting on Sunday morning to sort through the questions and come up with a final plan for the 90-minute debate.

The commission says the co-moderators have sole discretion about which participants to call on.
According the sources that spoke with CNN, the debate moderators want to call on the participants as much as possible because it's the "people's debate."
—
Follow the author of this story on Twitter and Facebook:
[facebook //www.facebook.com/plugins/like.php?href=