Just an hour before the second 2016 presidential debate, GOP nominee Donald Trump brazenly held a short press conference in which he was flanked by multiple women who have publicly accused former President Bill Clinton of sexual misdeeds.
Trump's campaign has tumultuously reeled over the past few days in the aftermath of leaked audio from 2005 in which the Manhattan billionaire crudely discussed women.
Trump has since apologized for the remarks, but he has not been able to stop the hemorrhaging of Republicans who have distanced themselves from the nominee or explicitly called for him to drop out of the race altogether.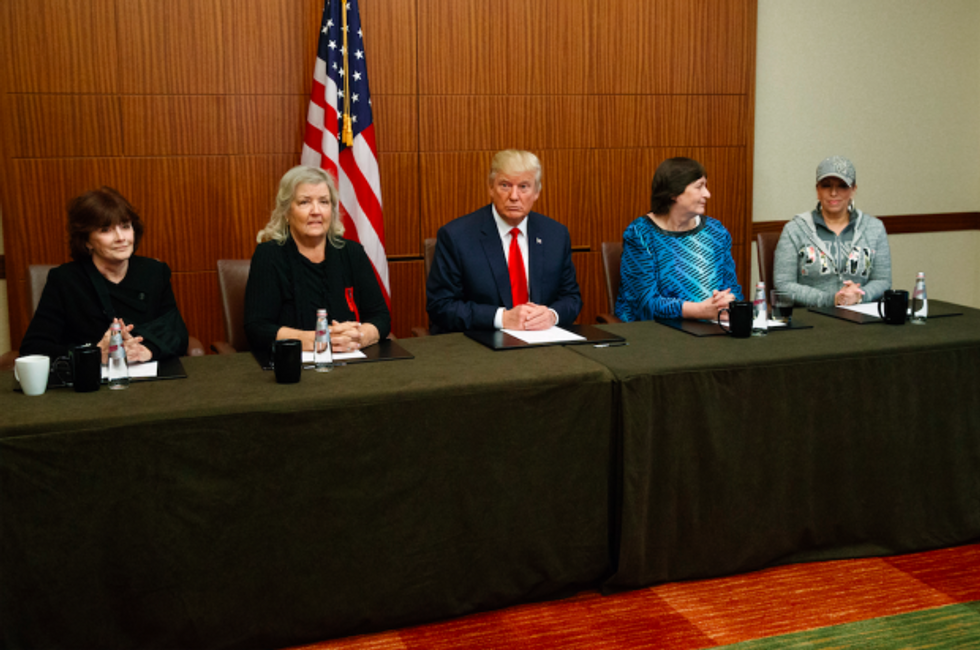 Republican presidential nominee Donald Trump sits with, from right, Paula Jones, Kathy Shelton, Juanita Broaddrick and Kathleen Willey, before the second presidential debate with Democratic presidential nominee Hillary Clinton at Washington University. (AP Photo/ Evan Vucci)
And while the tape is certainly expected to be a topic of discussion during Sunday night's debate, Trump's meeting with the former president's accusers is almost a sure sign that he plans to hit back against his Democratic opponent Hillary Clinton by using her husband's own alleged sexual indiscretions.
Juanita Broaddrick, Paula Jones, Kathy Shelton and Kathleen Willey expressed their support for Trump as they levied heavy accusations against the Clintons from how the pair handled sexual assault cases to their own involvement in alleged sexual misdeeds.
"Mr. Trump may have said some bad words, but Bill Clinton raped me, and Hillary Clinton threatened me," Broddrick said. "I don't think there's any comparison."
Following the women's short testimonies, reporters attempted to ask Trump about his comments on the leaked tapes, including if he ever touched women without their consent. Trump did not answer the questions, but Jones quickly jumped to his defense.
"Why don't you ask Bill Clinton that? Go ahead and ask Hillary as well," Jones, a former Arkansas state employee who sued Bill Clinton for sexual harassment, said.
Shelton, who was allegedly raped in 1975 at the age of 12, accused Hillary Clinton of "laughing" and knowing that the man she represented was guilty of rape.
Former New York City Mayor Rudy Giuliani, retired neurosurgeon Dr. Ben Carson and campaign manager Kellyanne Conway were among some of Trump's team who attended the press conference.
Trump spent Sunday before the debate retweeting Broaddrick's accusations against the Clintons and sharing interviews the pro-Trump website Breitbart published with some of the women.
In a statement Sunday, Hillary for America communications director Jennifer Palmieri said the campaign isn't "surprised" to see Trump" continue his destructive race to the bottom."
"Hillary Clinton understands the opportunity in this town hall is to talk to voters on stage and in the audience about the issues that matter to them, and this stunt doesn't change that," she said, adding that Clinton is "prepared to handle whatever Donald Trump throws her way."
The women are expected to attend the debate at Washington University as well.
—