In an unexpected move, well-known evangelical theologian Wayne Grudem withdrew his endorsement of Donald Trump following the release of 2005 audio depicting the Republican presidential nominee speaking explicitly about women.
Earlier this year, Grudem endorsed Trump as "a morally good choice" in an editorial on TownHall.com. That op-ed has been removed and was replaced Sunday with a new column explaining why he no longer supports the billionaire businessman.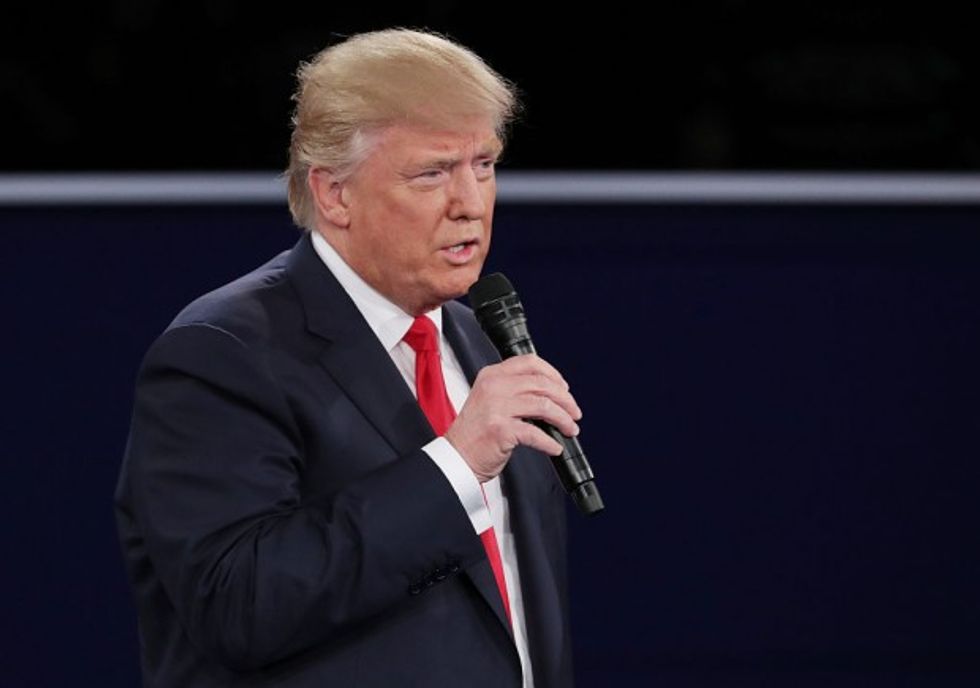 Chip Somodevilla/Getty Images
"There is no morally good presidential candidate in this election," Grudem wrote. "I previously called Donald Trump a 'good candidate with flaws' and a 'flawed candidate' but I now regret that I did not more strongly condemn his moral character. I cannot commend Trump's moral character, and I strongly urge him to withdraw from the election."
According to Grudem's article, it was the comments revealed in the decade-old footage of Trump's conversation with former "Access Hollywood" host Billy Bush that was his tipping point. The popular theologian was criticized for his initial support of Trump, and his reversal could signal a shift within the evangelical community.
"Some may criticize me for not discovering this material earlier, and I think they are right," he continued. "I did not take the time to investigate earlier allegations in detail, and I now wish I had done so. If I had read or heard some of these materials earlier, I would not have written as positively as I did about Donald Trump."
While Grudem had previously written that Trump's previous remarks were "careless," he suggested they were being exaggerated by a "hostile press." But the latest revelations seem to have shifted the Christian leader's thinking.
However, his decision not to support Trump does not change his position on Hillary Clinton.
Of the Democratic presidential nominee, Grudem wrote:
Hillary Clinton is no better. She vilified the victims of Bill Clinton's sexual advances; she abandoned our diplomats to be killed by terrorists in Benghazi and then lied about it; she illegally handled classified emails on her private server and put national security at risk; she left much of the world in chaos after four years as Secretary of State; and she has a lifelong pattern of acting as if she is above the law, protected by the Obama administration's Justice Department, the FBI, and the mainstream media
Other high profile evangelicals, such as the Southern Baptist Convention's Russell Moore, Southern Baptist Theological Seminary President Al Mohler and Christian author Max Lacado, have remained steadfastly opposed to Trump.
Moving forward, Grudem said he is unsure who he will vote for on Election Day.
"I am not now sure who I am going to vote for. I absolutely will not vote for Clinton. I'm hoping that Trump will withdraw," he wrote.
—