While Donald Trump has claimed his vulgar words about women, which were revealed in the now infamous 2005 "Hollywood Access" tape, have never translated into action, two women are asserting just the opposite.
"I wanted to punch the screen," Manhattan resident Jessica Leeds, 74, told The New York Times Wednesday, recounting the feeling she experienced when she heard Trump say he had never done any of the things he bragged about in the decade-old video.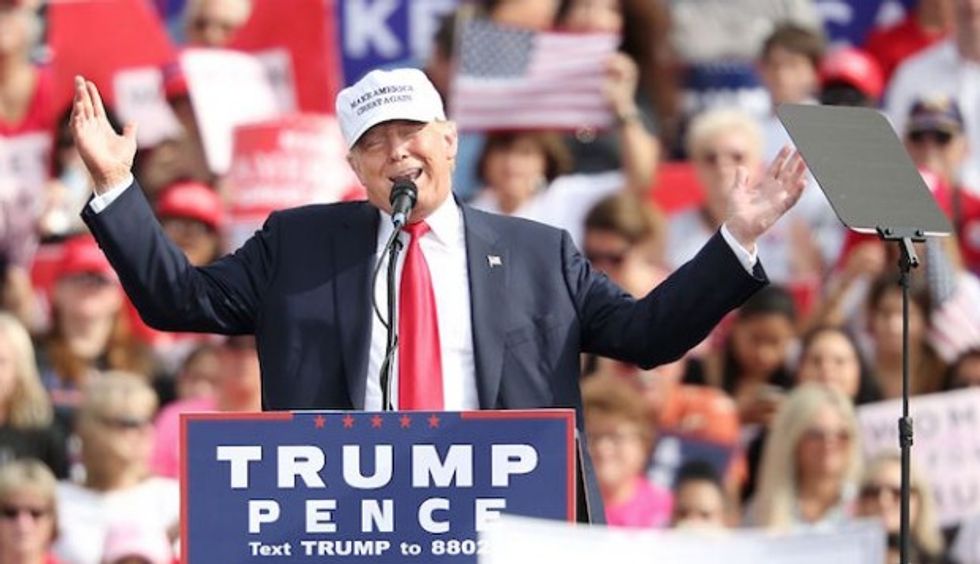 Donald Trump (GREGG NEWTON/AFP/Getty Images)
Leeds recounted her alleged experience with Trump, which took place in the first-class cabin of a New York-bound airplane more than 30 years ago when she was a traveling businesswoman for a paper company, this way:
About 45 minutes after takeoff, she recalled, Mr. Trump lifted the armrest and began to touch her.

According to Ms. Leeds, Mr. Trump grabbed her breasts and tried to put his hand up her skirt.

"He was like an octopus," she said. "His hands were everywhere."

She fled to the back of the plane. "It was an assault," she said.
Trump's denial that he ever touched women inappropriately likewise angered 33-year-old Rachel Crooks, who was watching Sunday's presidential showdown from Ohio.
Crooks, a 22-year-old receptionist at the Bayrock Group, a real estate investment and development company in Trump Tower in Manhattan, at the time, recounted to the Times an encounter she had with Trump outside an elevator in the building one morning in 2005. Knowing the company she worked for had done business with Trump, Crooks turned to shake hands with the billionaire. But when Crooks shook his hand, Trump wouldn't let go, she said.
Of the alleged encounter, she told the Times:
Instead, he began kissing her cheeks. Then, she said, he "kissed me directly on the mouth."

It didn't feel like an accident, she said. It felt like a violation.

"It was so inappropriate," Ms. Crooks recalled in an interview. "I was so upset that he thought I was so insignificant that he could do that."
"She was very worked up about it," Crooks' sister Brianne Webb, who spoke to her sibling right after the supposed interaction, said. "Being from a town of 1,600 people, being naïve, I was like, 'Are you sure he didn't just miss trying to kiss you on the cheek?' She said, 'No, he kissed me on the mouth.' I was like, 'That is not normal.'"
These latest accusations against Trump join a dog pile of untoward moments on the issue of sexual assault for the GOP candidate.
Four 1997 Miss Teen USA competitors told BuzzFeed News Wednesday that Trump would walk into their changing rooms, often when the young women — some only 15 years old — had no clothes on at all. And Tasha Dixon, who was Miss Arizona in 2001, told CBS Los Angeles Trump would often greet contestants when they were not fully clothed.
The Trump campaign came out Wednesday to call the Times report nothing more than "fiction," in a statement from communications advisor Jason Miller:
This entire article is fiction, and for the New York Times to launch a completely false, coordinated character assassination against Mr. Trump on a topic like this is dangerous. To reach back decades in an attempt to smear Mr. Trump trivializes sexual assault, and it sets a new low for where the media is willing to go in its efforts to determine this election.

It is absurd to think that one of the most recognizable business leaders on the planet with a strong record of empowering women in his companies would do the things alleged in this story, and for this to only become public decades later in the final month of a campaign for president should say it all.
It is worth noting Trump admitted to — and even bragged about — walking in on undressed pageant contestants during one of his many appearances on shock jock Howard Stern's radio show.