UPDATE 7:48 a.m.: BOSTON (TheBlaze/AP) — Two Boston police officers shot and critically injured responding to a domestic incident are out of surgery.
Police Commissioner William Evans told WBZ-AM on Thursday morning he understood that surgery "went well" and the officers' families are with them.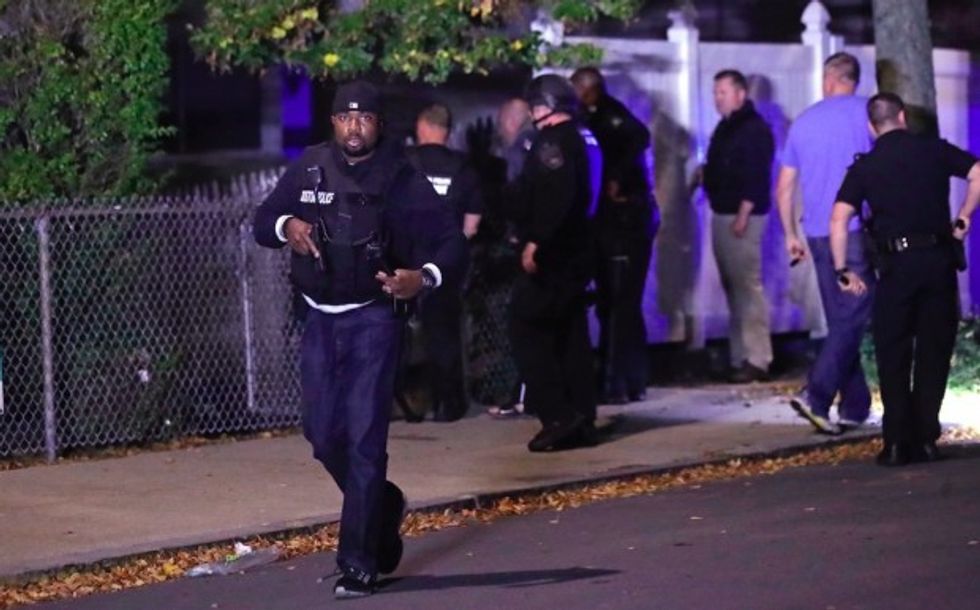 Police search for a suspect after a shooting in the East Boston neighborhood of Boston, Wednesday, Oct. 12, 2016. Police say two officers were shot late Wednesday night. It's unclear what led to the shooting. (AP Photo/Charles Krupa)
He says they were shot Wednesday night by a 33-year-old man with body armor. The suspect was shot and killed by police.
Evans described a "hectic scene" with other officers rushing to the aid of their injured colleagues and pulling them to safety. He said one officer fashioned a tourniquet, while another put a finger on one of the wounds.
The injured officers' names were not immediately released.
The following news report ran before the officers were out of surgery:
Original story below
BOSTON (TheBlaze/AP) — Two Boston police officers were injured after a late-night shooting Wednesday. Authorities said the suspect is dead.
The Boston Police Department lifted a shelter-in-place order early Thursday, saying the scene was secure. Police Commissioner William Evans, who frequently asked for prayer throughout the night, said one of the officers sustained "life threatening injuries while the other's injuries appear to be non life" threatening.
Commissioner Evans: "One of my officers is being treated for life threatening injures while the other's injuries appear to be non-life."

— Boston Police Dept. (@bostonpolice) October 13, 2016
Authorities say the officers were responding to a report of a person with a gun in East Boston when they came under fire. The extent of their injuries was not immediately known.
Police wrote on Twitter that as the scene unfolds, "we kindly ask our community members to pray for our injured officers."
Police have not released any additional information.
This story has been updated. Dave Urbanski contributed to this story.