A former People magazine writer, in a first-person article for the publication, said Republican presidential nominee Donald Trump "was pushing me against the wall and forcing his tongue down my throat" during a break in a 2005 interview after his wife Melania had left the pair alone.
Natasha Stoynoff's claims follow accusations from women who say Trump touched them inappropriately and an audio recording featuring Trump describing women in lewd terms. As for Stoynoff's recollections, a Trump spokeswoman told People: "This never happened. There is no merit or veracity to this fabricated story."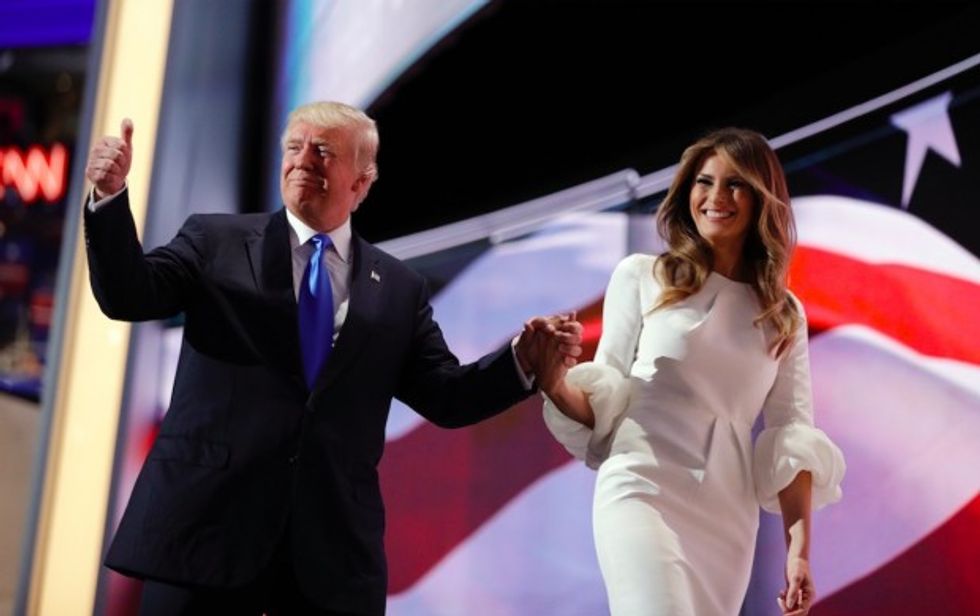 Republican presidential candidate Donald Trump gives his thumb up as he walks off the stage with his wife Melania during the Republican National Convention in Cleveland on July 18. (AP Photo/John Locher)
Stoynoff wrote that she was assigned the "Trump beat" for People in the early 2000s: "I tracked his hit show The Apprentice, attended his wedding to Melania Knauss and roamed the halls of his lavish Trump Tower abode. Melania was kind and sweet during our many chats, and Donald was as bombastic and entertaining as you would expect. We had a very friendly, professional relationship."
In December 2005, Stoynoff traveled to Florida to interview the Trumps for a first-wedding-anniversary feature story. She said that when they took a break so a "very-pregnant Melania" could head upstairs to change clothes for more photos, Trump invited Stoynoff on a mansion tour.
Then once inside a must-see room Trump described as "tremendous," Stoynoff said something happened that left her "stunned":
We walked into that room alone, and Trump shut the door behind us. I turned around, and within seconds he was pushing me against the wall and forcing his tongue down my throat.

Now, I'm a tall, strapping girl who grew up wrestling two giant brothers. I even once sparred with Mike Tyson. It takes a lot to push me. But Trump is much bigger — a looming figure — and he was fast, taking me by surprise and throwing me off balance. I was stunned. And I was grateful when Trump's longtime butler burst into the room a minute later, as I tried to unpin myself.

The butler informed us that Melania would be down momentarily, and it was time to resume the interview.

I was still in shock and remained speechless as we both followed him to an outdoor patio overlooking the grounds. In those few minutes alone with Trump, my self-esteem crashed to zero. How could the actions of one man make me feel so utterly violated? I'd been interviewing A-list celebrities for over 20 years, but what he'd done was a first. Did he think I'd be flattered?

I tried to act normal. I had a job to do, and I was determined to do it. I sat in a chair that faced Trump, who waited for his wife on a loveseat. The butler left us, and I fumbled with my tape recorder. Trump smiled and leaned forward.

"You know we're going to have an affair, don't you?" he declared, in the same confident tone he uses when he says he's going to make America great again. "Have you ever been to Peter Luger's for steaks? I'll take you. We're going to have an affair, I'm telling you." He also referenced the infamous cover of the New York Post during his affair with Marla Maples.

"You remember," he said. "'Best Sex I Ever Had.'"
Soon Melania returned, and Stoynoff said Trump "instantly reverted back to doting husband mode, as if nothing had happened, and we continued our interview about their wedded bliss. I nodded at his hollow words and smiled at his jokes, but I was nauseated. It didn't seem to register to him in the slightest that what he'd done might have hurt or offended me, or his wife."
Stoynoff added that the next day she discovered that Trump — after having gotten Stoynoff a spa session that she couldn't book herself when the schedule was full — waited for her in the massage room before having to leave for a meeting.
"But why was he here?" Stoynoff said she asked the massage therapist. "Is he coming back?" She said the therapist didn't know, but while she was on the massage table, "my eyes were on the doorknob the entire time. He's going to show up and this guy's going to let him in with me half-naked on a table. I cut the session short, got dressed and left for the airport."
More from Stoynoff:
Back in my Manhattan office the next day, I went to a colleague and told her everything.

"We need to go to the managing editor," she said, "And we should kill this story, it's a lie. Tell me what you want to do."

But, like many women, I was ashamed and blamed myself for his transgression. I minimized it ("It's not like he raped me…"); I doubted my recollection and my reaction. I was afraid that a famous, powerful, wealthy man could and would discredit and destroy me, especially if I got his coveted PEOPLE feature killed.

"I just want to forget it ever happened," I insisted. The happy anniversary story hit newsstands a week later and Donald left me a voicemail at work, thanking me.

"I think you're terrific," he said, "the article was great and you're great."

Yeah, I thought. I'm great because I kept my mouth shut.
Soon Stoynoff said she asked to be taken off the Trump beat, and later she left People magazine to write books and screenplays.
She added that after hearing the leaked audio of Trump describing women in lewd terms, "I felt deep regret for not speaking out at the time. What if he had done worse to other female reporters at the magazine since then because I hadn't warned them?"
You can read Stoynoff's entire article here.