Former presidential candidate Dr. Ben Carson demanded that his interviewer's microphone be cut off during an interview on MSNBC's "Morning Joe" Friday.
MSNBC's Katty Kay pressed Carson, a surrogate for Donald Trump, about accusations from multiple women that the Republican presidential nominee sexually assaulted them.
"Are you saying that these women are lying?" she asked.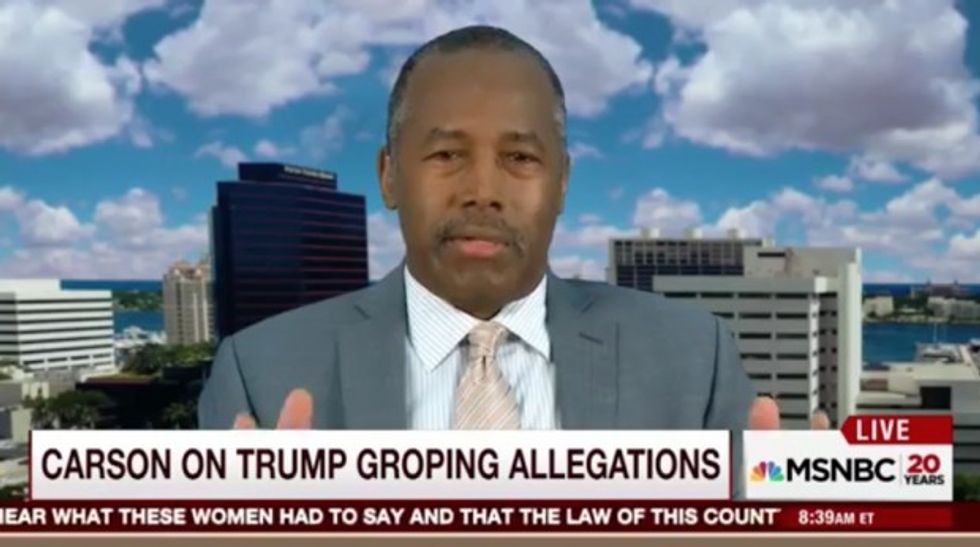 Ben Carson (Image source: YouTube/MSNBC)
Carson replied, "That's your characterization, because you need to characterize it that way to try to make me the bad guy."
The interview then went off the rails. Kay and show co-host Joe Scarborough tried to get Carson to answer the question as he repeatedly told them to "stop."
"Hey, can you turn her microphone off, please?" Carson later asked. "Turn her microphone off so I can talk."
"No," Scarborough said. "No! It's a simple question. Yes or no, do you believe these women are lying or not? Nobody's trying to paint you as a bad guy, we just want an answer, straight talk."
"It doesn't matter whether they're lying or not," Carson replied. "What matters is that the train is going off the cliff."
"Off course it matters," Kay began. Carson attempted to speak over her, asking, "Do you guys have a plug, please?"
Carson said he would "love" to talk about Judeo-Christian values "at a time other than a political election."
Elise Jordan, an MSNBC contributor, noted that Carson was never accused of a "sexual transgression" during his own campaign although Trump tried to smear him as a "pedophile," a claim she called "unfounded and ridiculous."
"What does it say that there are ... multiple accusations against Trump and you didn't have a single accusation like that against you?" Jordan asked.
"Again, not the important issue," Carson replied, saying it's like "hitting a brick wall" trying to get "the news media to understand how much trouble we're in."
"Get it through your thick skulls!" he exclaimed.
After the interview, Jordan expressed dismay that Carson would defend Trump.
"That's so disappointing to me because I heard Dr. Carson speak when I was in college and it was the most incredible, inspiring speech I've ever heard, about his upbringing and his Christian faith, it was the kind of speech that I said, 'This man should run for president.'"
"That — I don't know who that man is," she said of Carson's interview.
On Twitter, Scarborough called Carson's request to shut off Kay's microphone "depressing on so many levels."
So depressing on so many levels and outrageous that he wanted @KattyKayBBC's microphone cut off! https://t.co/3BVIv1ZtvU

— Joe Scarborough (@JoeNBC) October 14, 2016
Watch below: