A new poll released by ABC/Washington Post shows that an overwhelming majority of all Americans — including almost half of Republicans — believe that Republican nominee Donald Trump has likely actually made unwelcome sexual advances on women like the kind Trump discusses in the "Access Hollywood" tapes that have troubled his campaign for the last week and caused many Republicans to publicly abandon him.
Trump has vehemently denied any wrongdoing and has produced an eyewitness who refuted one of his accusers — and who himself has a checkered past. The new poll suggests that Americans tend to believe, in this instance, that there is fire at the source of the smoke that has enveloped Trump's campaign.
An overwhelming 68 percent of all voters surveyed indicated they believed that Trump "probably has" made unwanted sexual advances towards women, while only 14 percent say they believe he has probably not made such advances, and 19 percent have no opinion. 48 percent of Republicans surveyed indicated they believe Trump "probably has" made such advances, compared to only 23 percent who believe he has not. Among both Democrats and independents, over 70 percent of voters surveyed indicated they believe Trump probably has made such advances.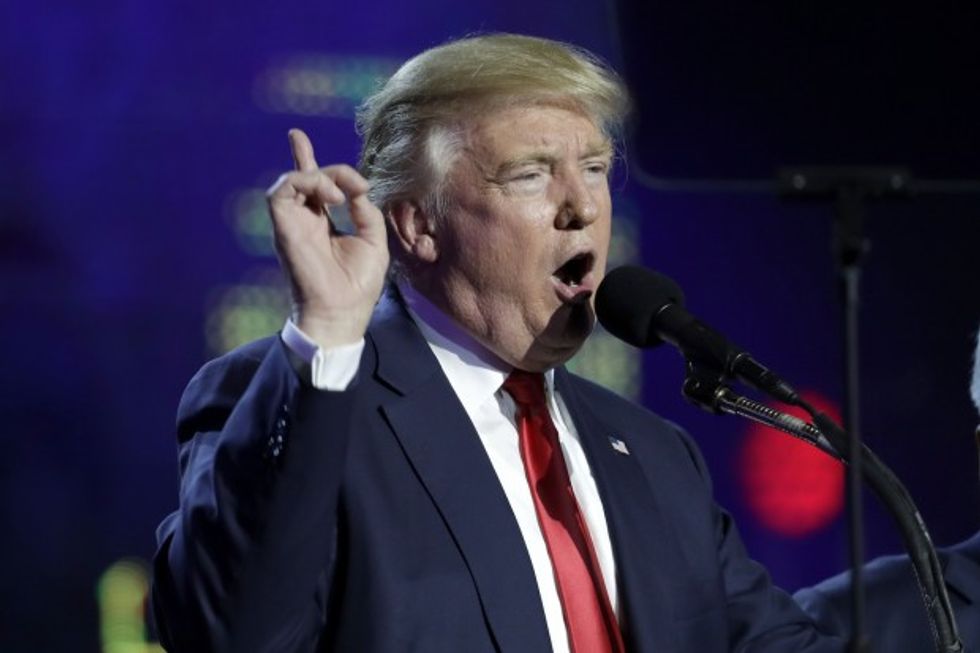 Republican presidential candidate Donald Trump speaks during a charity event hosted by the Republican Hindu Coalition, Saturday, Oct. 15, 2016, in Edison, N.J. (AP Photo/Julio Cortez)
Overall, however, the poll results do not indicate that Trump's standing has been measurably hurt in the polls by this scandal. Only 5 percent of Republicans and 13 percent of independents surveyed indicated the comments on the tape made them unable to vote for Trump. Still, 13 percent of Republicans and 38 percent of independents indicated the remarks on the tape would make them "less likely" to vote for Trump, which is not welcome news for the Trump campaign as they head into the home stretch of the 2016 campaign.