Republicans who run for president generally don't have to spend significant time or resources defending Utah, which has traditionally been among the five reddest states in the country. In 2012, Mitt Romney won 72 percent of the vote in Utah, thanks in large part to his significant connections to the state. In 2008, John McCain won 62 percent of the vote in Utah even though he lost nationally by a relatively large margin.
But recent polling has demonstrated that Republican presidential nominee Donald Trump has been severely damaged by the release of the "Access Hollywood" hot-mic tapes in the heavily Republican and heavily Mormon state. Although Trump struggled mightily in Utah in the primaries, a number of polls taken in August and September showed Trump with comfortable double-digit leads.
However, a Y2 Analytics poll released last week showed that Trump had fallen into a tie with Democratic nominee Hillary Clinton in Utah, and a Monmouth poll released the same day showed him with a narrow six-point lead over Clinton. Significantly, both polls showed independent conservative candidate Evan McMullin — who also has close ties to Utah — registering over 20 percent support.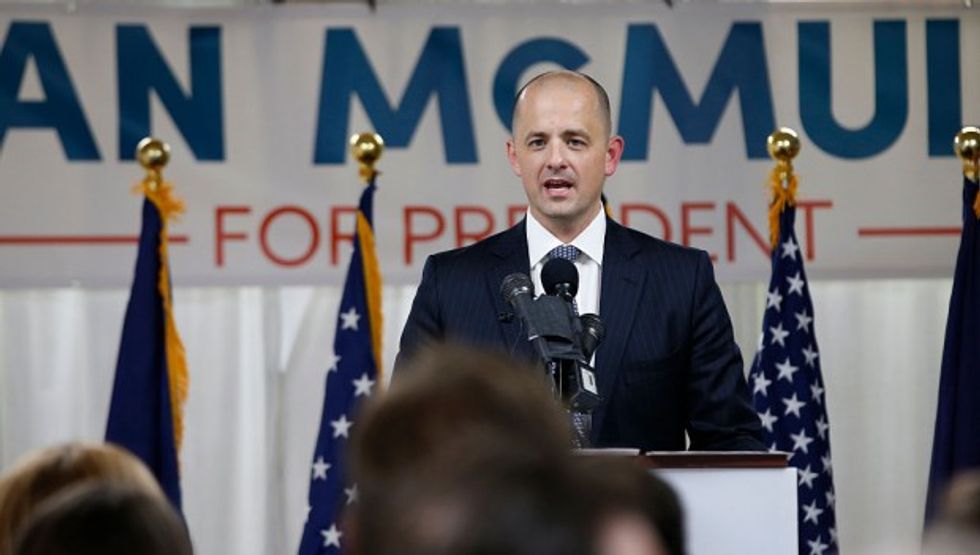 Independent presidential candidate Evan McMullin (George Frey/Getty Images)
A new poll released today by Rasmussen confirms that Trump is in dire trouble in this Republican stronghold and that Evan McMullin stands a good chance of becoming the first third-party candidate to win a state outright since 1968. According to the poll, Trump garners 30 percent support in Utah, but McMullin is close on his heels at 29 percent, followed by Hillary Clinton at 28 percent.
Trump's path to victory is already complicated by changing voter demographics that have potentially placed swing states like Virginia and Colorado seemingly beyond his reach, requiring him to rely on long-shot bids to win typically Democratic-leaning states like Pennsylvania or Michigan. If Utah ends up voting for McMullin — or worse, for Clinton — Trump's path to 270 Electoral College votes begins to look mathematically impossible.