Democratic presidential nominee Hillary Clinton recently claimed that her Republican rival, Donald Trump, was opposed to bailing out the auto industry.
At a Detroit rally last week, Clinton said that, "back in the Great Recession," Trump "said rescuing the auto industry didn't really matter very much."
"He said, and I quote again, 'Let it go.' Now, I can't imagine that," she told the Motor City audience. "I supported President Obama's decision to rescue the auto industry in America."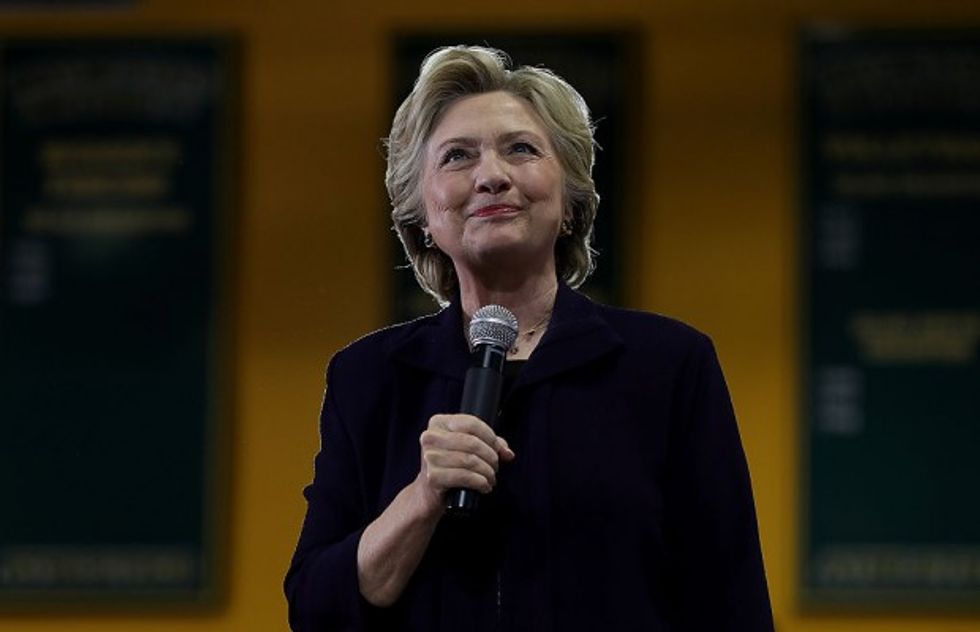 Democratic presidential nominee Hillary Clinton speaks during a campaign rally at Wayne State University in Detroit on Oct. 10. (Justin Sullivan/Getty Images)
The Washington Post fact checked her claim and gave it four Pinocchios, noting that Trump did a series of interviews in 2008 in which he argued that "you have to save the car industry."
"I think the government should stand behind them 100 percent," Trump told Fox News' Neil Cavuto on Dec. 17, 2008. "You cannot lose the auto companies. They are great. They make wonderful products."
Trump also said that the car companies could have negotiated "from bankruptcy."
"I would really say, and I've used it over the years — not personally, but I've used it for different companies — you throw it into a chapter, you negotiate your deal, you make some new deals, you keep some deals the way they are, and you just make it better. You make it work," he told Fox News' Greta van Susteren in December 2008.
The exact Trump quote Clinton cited came from 2015, in which he indicated he would have been open to several options as to how to deal with the auto industry.
"You could have let it go, and rebuild itself, through the free enterprise system," Trump said. "You could have let it go bankrupt, frankly, and rebuild itself, and a lot of people think that's the way it should have happened. Or you could have done it the way it went. I could have done it either way. Either way would have been acceptable. I think you would have wound up in the same place."
In their analysis, the Post wrote, "One problem with fact-checking Trump's statements on the issues is that he does so many interviews, and says so many contradictory things, that it is sometimes easy for Clinton to pick and choose various statements to create a narrative."
The publication concluded that "Clinton is creating an imaginary Trump here, claiming that Trump didn't really care about the auto industry." They added:
The record is clear that Trump in 2008 was supportive of rescuing the auto industry, saying the government should do everything it could to save it: "You just can't lose Chrysler, you can't lose Ford, and you can't lose General Motors." He touted DIP financing, but he was relatively agnostic about the preferred path.

Even in 2015, when Trump seemed more uncertain about the preferred option, he said "you could have done it the way it went.
The paper wrote that Clinton "twists his 'let it go' comment out of context and pretends he said it in 2008," before giving Clinton their four-Pinocchios rating.