Donald Trump is leading his Democratic rival, Hillary Clinton, in the Republican stronghold of Texas by just three points, according to a new poll conducted by the University of Houston's Hobby School of Public Affairs.
The poll surveyed 1,000 Texas voters who said they were either certain or very likely to vote in the Nov. 8 presidential election. Among the participants who were asked who they planned to vote for as the next president, 41 percent said they support Trump while 38 percent said they support Clinton. The poll's margin of error is 3 percent, meaning the two major party candidates are in a virtual tie in the Lone Star State.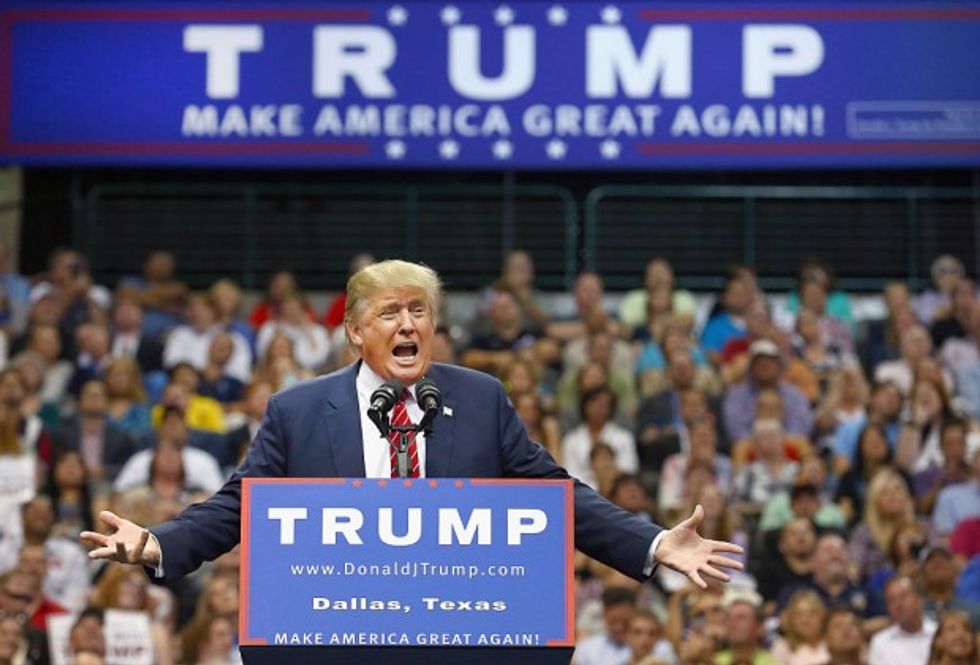 Republican presidential candidate Donald Trump speaks during a campaign rally in Dallas on Sept. 14. (Tom Pennington/Getty Images)
As a summary of the poll on the school's website noted, no Republican nominee for president has won Texas by any fewer than 11 percentage points since 2000. Jimmy Carter was the last Democratic president to win Texas in electoral votes.
The potentially devastating poll for the Trump campaign comes around the same time as several other polls show more bad news for the Republican nominee. In a Washington Post op-ed published Tuesday, political analyst Stuart Rothenberg called Trump's path to the presidency "non-existent," citing Trump's performance in recent key battleground state polls.
Pennsylvania, Michigan and Wisconsin, Rothenberg said, were never actually "in play" for Trump, despite the Trump campaign's insistence that they were.
Trump is also struggling to catch up to Clinton in Virginia and Colorado. And now, Texas is just one more state where Trump could be in trouble.