Nearly a quarter of millennials would prefer that the planet be struck by a "giant meteor" than to choose between either major party candidate for president, according to a UMass Lowell/Odyssey millennials poll released Tuesday.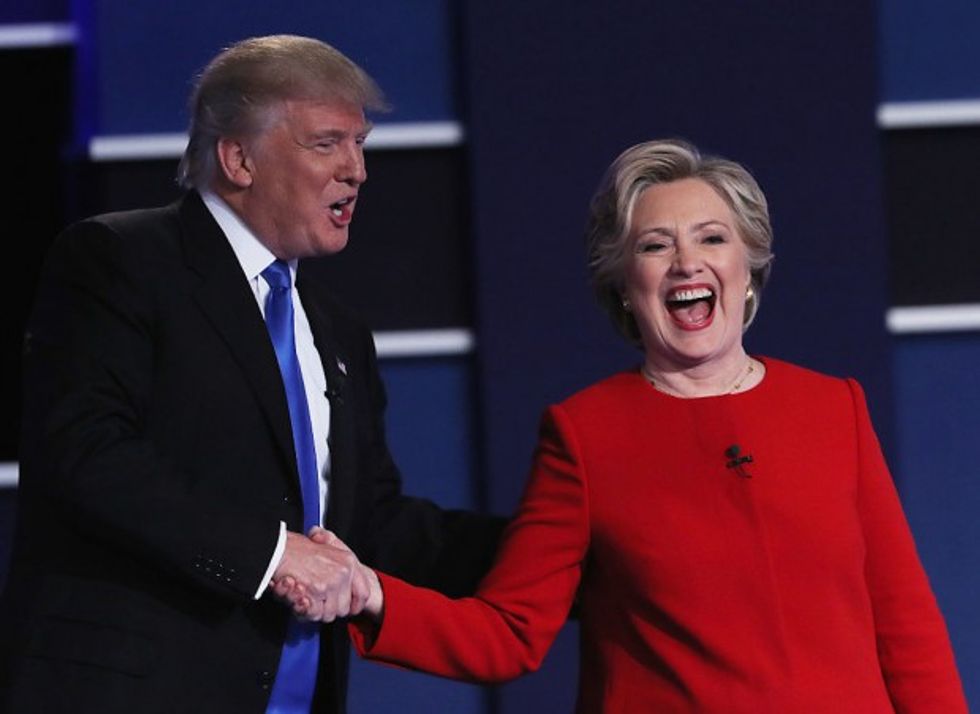 Republican presidential nominee Donald Trump and Democratic presidential nominee Hillary Clinton shake hands (Spencer Platt/Getty Images)
Pollsters asked 18-35 year olds to choose between a Hillary Clinton presidency, a Donald Trump presidency, President Barack Obama declaring himself president for life, a president chosen through a random lottery of all U.S. citizens or the Earth being destroyed by a meteor.
Rather than choose between Clinton and Trump, 39 percent of respondents said they would prefer for Obama to remain in office, and 26 percent replied that they would prefer to select a president through a random lottery. A full 23 percent choose a fiery death by giant meteor.
When their options were narrowed down, 53 percent of respondents said they would prefer a meteor strike to a Trump presidency and 34 percent said they would prefer a meteor strike to a Clinton presidency.
Professor Joshua Dyck, co-director of UMass Lowell's Center for Public Opinion, said in a statement regarding the poll:
We do not take our respondents at their word that they are earnestly interested in seeing the world end, but we do take their willingness to rank two constitutional crises and a giant meteor ahead of these two candidates with startling frequency as a sign of displeasure and disaffection with the candidates and the 2016 election.
When forced to choose between only Clinton and Trump, 66 percent said they would support the former secretary of state, 22 percent said the businessman and 12 percent said they are undecided.
Dyck noted that, though millennials have been more likely to support Democrats in recent elections, there has been a "significant shift" of millennials "abandoning the GOP in large numbers" since 2008.
"The nomination of Donald Trump appears only to have made things worse for Republicans, with fewer than 1 in 4 likely voters 18 to 35 years old supporting the candidate," Dyck said.