Republicans in Congress have set their sights on a State Department official after newly released FBI documents seemed to indicate that he offered overseas positions for FBI agents in exchange for the declassification of documents found on former Secretary of State Hillary Clinton's email server.
The official — Under Secretary for Management Patrick Kennedy — was interviewed by an FBI agent during the course of the FBI's criminal investigation into Secretary Clinton's email's practices. According to interview notes recently released, Kennedy asked the agent to "classify the document as B9[,]" which would have allowed him to "archive the document in the basement of DoS never to be seen again." According to the agent's notes, "[REDACTED] was not sure of what KENNEDY meant by a 'B9' classification [note: B9 may be a reference to a FOIA exemption]."
The interview notes indicate that the FBI agent responded: "Not yet knowing the email's content, [REDACTED] told KENNEDY he would look into the matter if KENNEDY would provide authority concerning the FBI's request to increase its personnel in Iraq."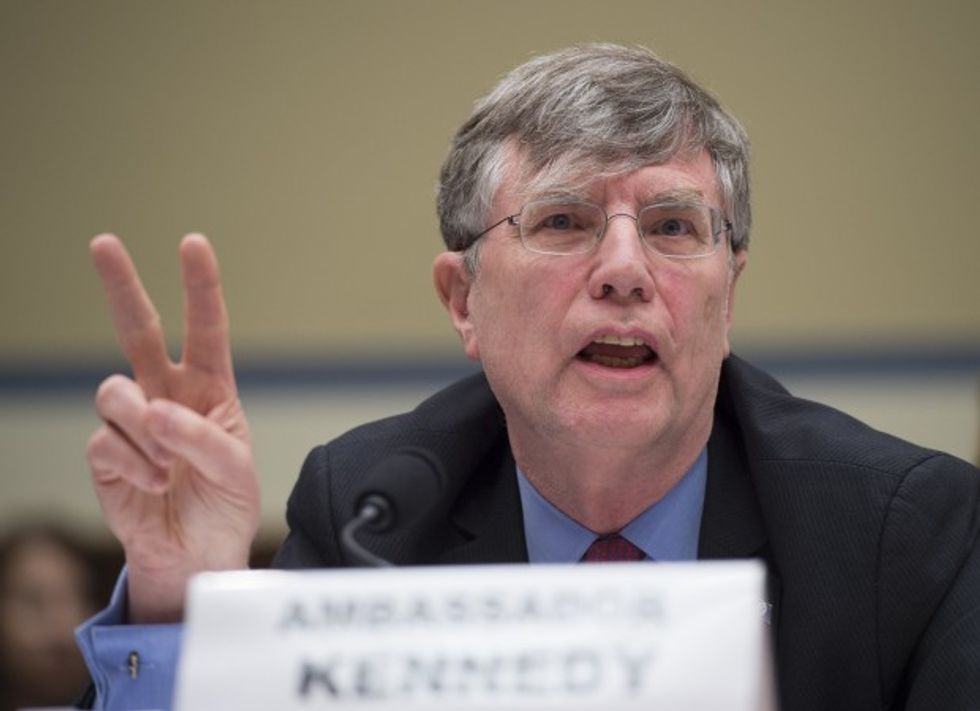 Under Secretary of State for Management Patrick Kennedy testified before the House Committee on Oversight and Government Reform hearing on "Examining FOIA Compliance at the Department of State" on Capitol Hill Sept. 8. (AP Photo/Molly Riley)
It is not immediately evident from the interview notes how Kennedy responded, but the notes go on to indicate that the FBI did conduct an investigation into the classification of the document in question and ultimately seems to have decided against declassifying the document in question, according to a note that reads, "[REDACTED] told ANDERSON and BOLES about KENNEDY's request to declassify the email and [REDACTED] response about denying the ability to do so[.]"
Republicans reacted immediately to the revelations with swift condemnation, with many calling the documents evidence that Kennedy either sought or participated in a quid pro quo arrangement with the FBI to declassify a document — even though a natural reading of the document would seem to suggest that the idea to tie Kennedy's request to an increase in personnel funding originated not with Kennedy but with some person whose name is redacted in the document.
Republican presidential nominee Donald Trump called the document evidence of "felony corruption," and Republicans in Congress immediately condemned Kennedy for the revelations, Fox News reported:
In a joint statement, House Oversight and Government Reform Committee Chairman Jason Chaffetz, R-Utah, and House Intelligence Committee Chairman Devin Nunes, R-Calif., called Kennedy's actions "extremely disturbing" and "reckless."

"Someone who would try to get classification markings doctored should not continue serving in the State Department or retain access to classified information. Therefore, President Obama and Secretary Kerry should immediately remove Under Secretary Kennedy pending a full investigation," they said.

North Carolina Sen. Richard Burr, a Republican, hammered Clinton and the State Department in a series of tweets.
The statement from Chaffetz and Nunes is particularly significant because similar statements have preceded official House investigations in the past.
The State Department has denied that any quid pro quo existed or that Kennedy was guilty of any wrongdoing.