Donald Trump's Supreme Court would protect the Second Amendment, the GOP nominee promised Wednesday night.
During the opening of the final 2016 presidential debate in Las Vegas, Nevada, Trump argued Americans' right to bear arms is "under such trauma" and could be in peril if Democratic presidential nominee Hillary Clinton should win in November.
"We need a Supreme Court that is, in my opinion, going to uphold the Second Amendment — and all amendments, but the Second Amendment which is under absolute siege," Trump said from the debate stage.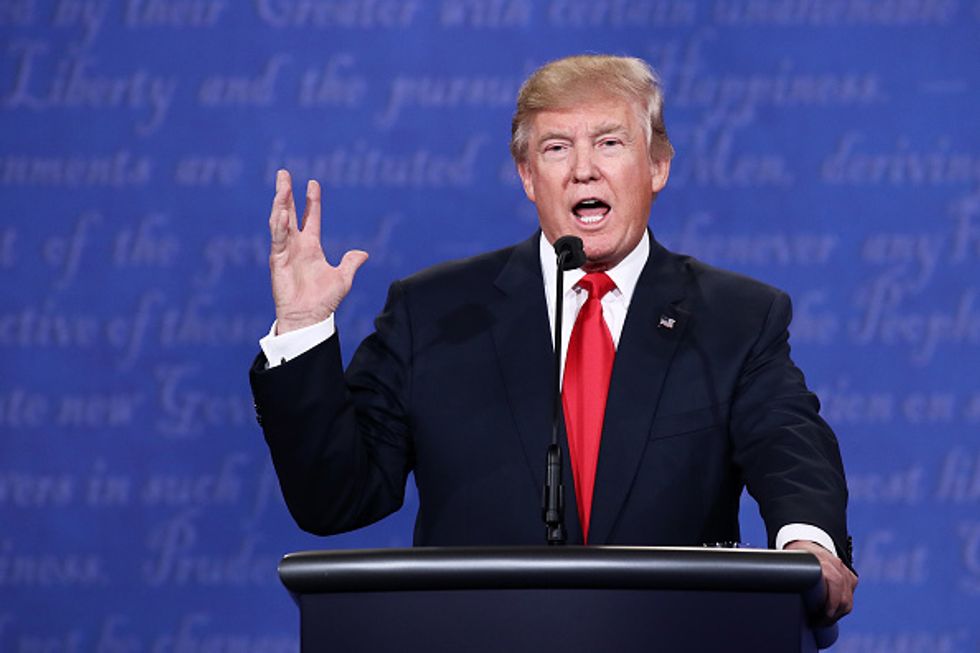 Republican presidential nominee Donald Trump speaks during the third U.S. presidential debate in Las Vegas, Nevada. (Getty Images/Win McNamee)
"I believe if my opponent should win this race, which I don't think will happen, we will have a Second Amendment which will be a very small replica of what it is right now," he added.
Trump touted his list of nearly two dozen potential Supreme Court nominees that he would appoint as the next U.S. president as judges who would be anti-abortion, protect the Second Amendment and "have a conservative bent."
"The Supreme Court, it's what it's all about," Trump said. "It's so imperative that we have the right justices."
Trump criticized Justice Ruth Bader Ginsburg as she railed against the Manhattan businessman in July and referred to him as a "faker."
"Judges should avoid commenting on a candidate for public office. In the future I will be more circumspect," Ginsburg said in an apology then.
Trump contended Wednesday, "I don't think we should have justices appointed that decide what they want to hear. It's about the Constitution."