Republican voters see Indiana Gov. Mike Pence as the face of the Republican Party in the event that Democrat Hillary Clinton wins the 2016 election, a new Bloomberg Politics poll found.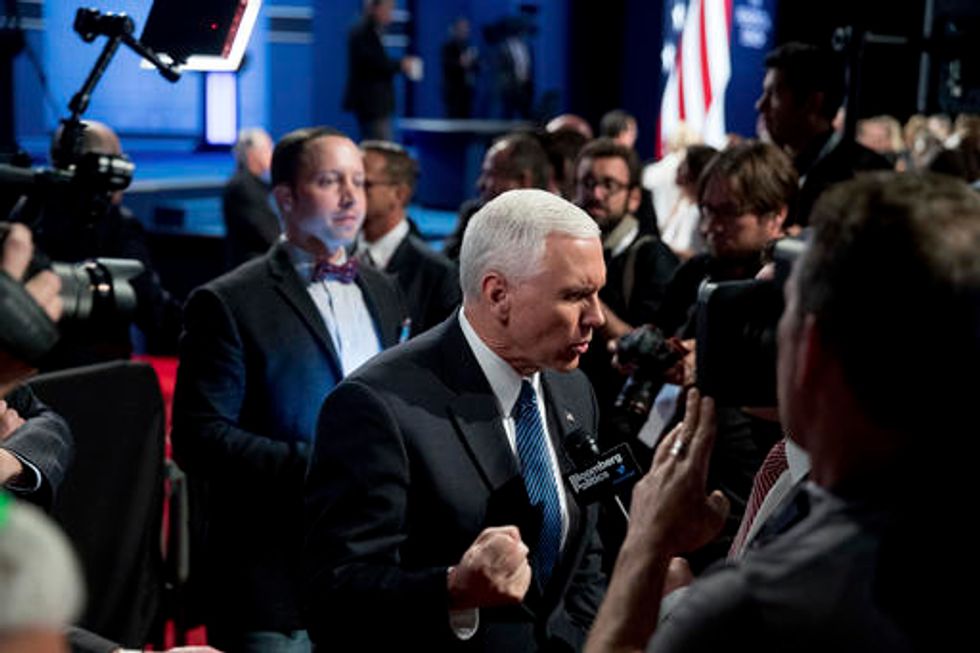 Republican vice presidential nominee Indiana Gov. Mike Pence speaks to a member of the media Wednesday in Las Vegas. (AP/Andrew Harnik)
Members of the GOP strongly favor their nominee Donald Trump over Clinton in a head-to-head, but they split five different ways on who should be the face of the party if Clinton beats Trump on Nov. 8.
Twenty-seven percent of those polled said that, if Clinton wins, Pence, Trump's vice presidential nominee, should be the face of the party in upcoming years, followed by Trump at 24 percent, Texas Sen. Ted Cruz at 19 percent, House Speaker Paul Ryan (Wis.) at 15 percent and Ohio Gov. John Kasich at 10 percent.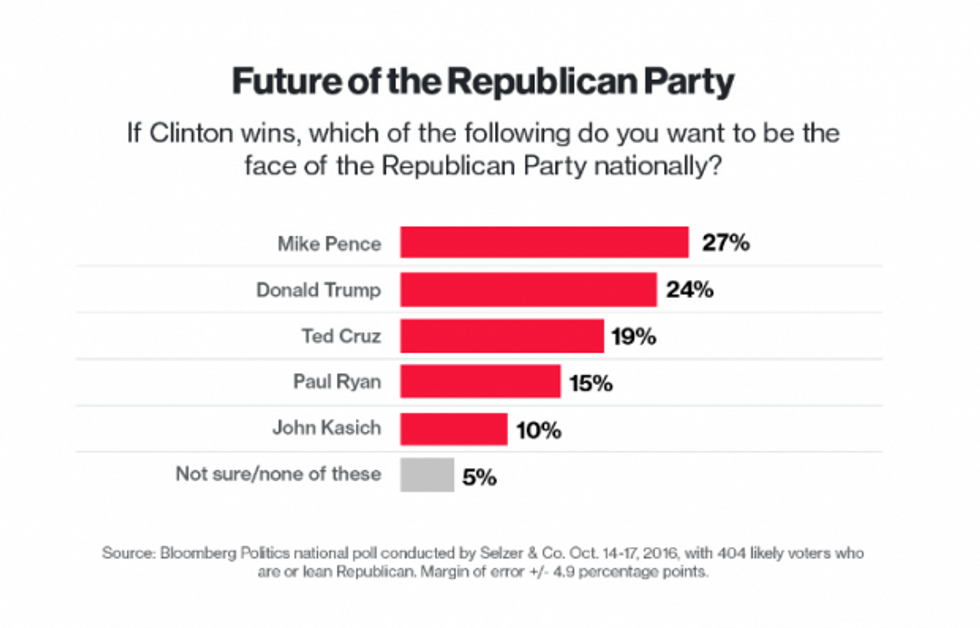 Bloomberg Politics graphic
Meanwhile, Ryan's popularity within the party has fallen dramatically: Fifty-one percent of likely Republican voters said Trump better represents their vision of what the Republican Party should be. In contrast, only 33 percent said Ryan represents their view of the party.
"Ryan's favorability is fading faster than Trump's," Bloomberg wrote — he suffered a drop of 11 percentage points since last month, to 50 percent favorability among Republican-leaning voters. Trump, on the other hand, dropped 5 percent in the same time frame — from 81 percent to 76 percent.
However, the speaker of the House of Representatives rarely puts up good favorability numbers — former Speaker John Boehner (R-Ohio), for example, was at 55 percent favorability with Republicans in December 2012, just after the last presidential election.