Actor Ben Stein reprised his classic role from "Ferris Bueller's Day Off" in a new ad for Sen. Chuck Grassley (R-Iowa).
The ad characterizes Grassley's Democratic challenger, former Iowa Lt. Gov. Patty Judge, as a candidate with a history of absenteeism, juxtaposing that depiction with Grassley's near-perfect attendance record in the senate.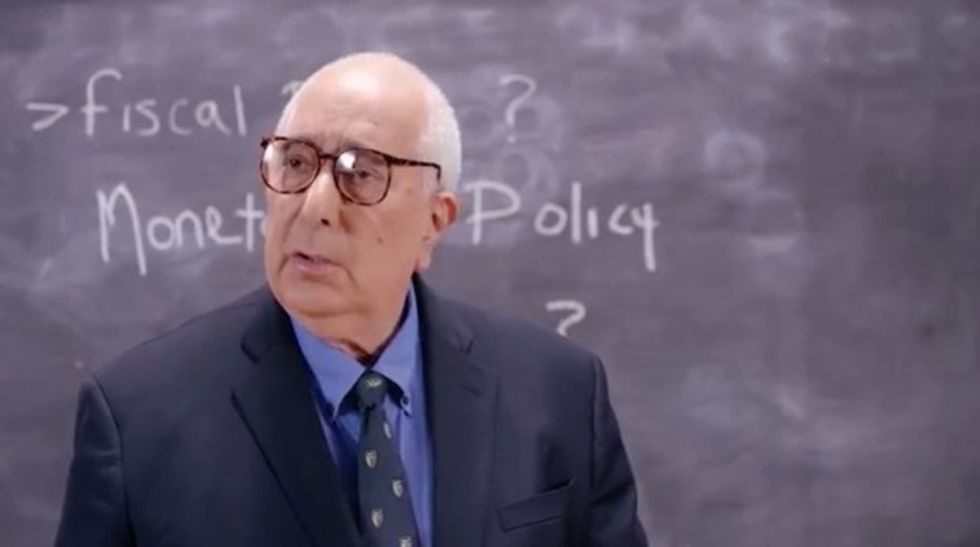 Image source: YouTube
As Stein repeatedly calls out "Judge?" the ad states that the former lieutenant governor was marked absent at 76 percent of State Fair board meetings, missed 69 of 72 meetings for the Iowa Economic Development Commission and missed one of every five Iowa Executive Council meetings. It adds that during her campaign, Judge didn't attend five of 10 Democratic primary debates.
At the end of the ad, Stein asks "Grassley?" A voice responds: "Here!"
"He's always here," Stein mutters as the ad touts Grassley hasn't missed a recorded Senate vote in 23 years.
According to Roll Call, the last time Grassley missed a vote was in 1993, when he went home to inspect flooding damage with then-President Bill Clinton.
In a statement, Grassley campaign manager Bob Haus said Grassley "never plays hooky and always shows up to work."
"He holds the longest perfect attendance record with more than 7,600 consecutive votes," Haus said. "Chuck Grassley is Iowa's star student and he gets an 'A+' for his non-stop work for Iowans."
In a statement to Politico, Sam Roecker, a spokesperson for Judge, called the ad "shameful," noting that the candidate's father died earlier this week.
"Chuck Grassley has kicked Iowa values to the curb. It's disgusting and unprecedented to release an attack ad against a political opponent the day of her father's funeral. This ad shows a lack of respect and any regard for basic decency," Roecker said. "This may work with Chuck Grassley's friends in Washington D.C., but Iowans are going to see this ad for what it is: a disgusting and desperate attack."
According to a Real Clear Politics average of polls, Grassley leads Judge by over 15 percentage points.