Terricka Cromartie, wife of former Indianapolis Colts cornerback Antonio Cromartie, who was released from the team on Oct. 4, is claiming her husband was dropped for protesting during the national anthem.
During a game against the Jacksonville Jaguars earlier this month, Antonio Cromartie took a knee and raised his fist in protest, and now his wife is claiming the move cost him his job.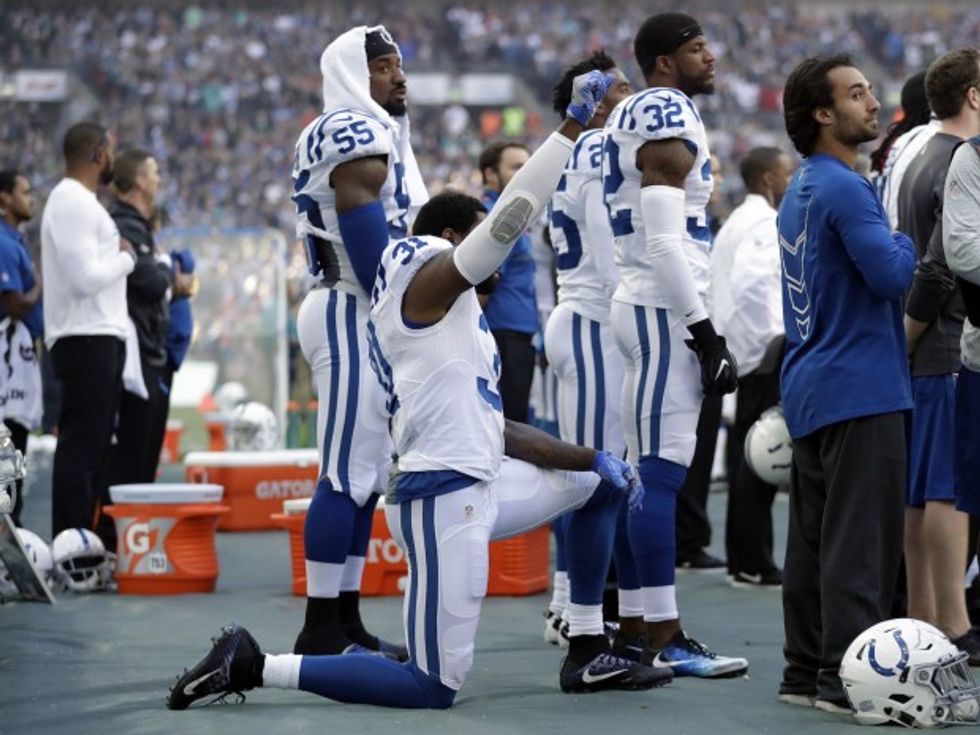 Indianapolis Colts cornerback Antonio Cromartie (31) kneels down during the national anthem before an NFL football game between the Indianapolis Colts and the Jacksonville Jaguars at Wembley stadium in London, Sunday, Oct 2, 2016. (AP Photo/Matt Dunham)
The athlete's wife, in a since deleted Instagram post, made the assertion after hearing Colts owner Jim Irsay say an NFL game is the "wrong venue" for such a demonstration.
"It hasn't been a positive thing. What we all have to be aware of as players, owners, PR people, equipment managers, is when the lights go on we are entertainment," Irsay told USA Today earlier this week. We are being paid to put on a show. There are other places to express yourself."
In response, Terricka Cromartie had this to say, via ESPN:
You are Nothing More than an Entertainer. Just Shut and do what we say. You have No rights as along as you are working for me.. there are other places for you to fight and stand for what you believe.

One things for sure I know my husband was told Not to take a Knee and he went with his heart and he took one. And that cost him his Job.. and Clearly this Statement backs that up... Just a Paid To put on a show.
In an Instagram post of his own, Antonio Cromartie fell short of acknowledging being dropped by the Colts, but did offer an explanation for his protest:
The game against the Jaguars was not the first time the former cornerback protested. He also took a knee during the national anthem at a Sept. 25 game against the San Diego Chargers. Antonio Cromartie was the only team member to do so.
In a statement delivered on Oct. 5, the day after the footballer was released, coach Chuck Pagano said the decision was based solely on winning and what is "best" for the team as a whole.
"I've said it before and I will say it again, every decision that we make as far as our roster goes and this team goes, is based on two things -- what is best for this team and what gives us the best chance to win," he said at the time.
It is important to note that Antonio Cromartie, a four-time Pro Bowler, played very poorly in the first half of the Colts' game against the Jaguars and was benched in the second half.