It's been a difficult month for the Affordable Care Act, but that isn't stopping Democratic presidential nominee Hillary Clinton from defending President Barack Obama's signature achievement from attacks leveled by Republican presidential nominee Donald Trump. In response to massive premium increases announced earlier this week for customers on the Obamacare exchanges, Trump again repeated his call to repeal the law and replace it with an alternate health care plan.
The Clinton campaign's response indicated a clear willingness to stand behind the increasingly troubled program, and attacked Trump for trying to "reverse the progress" made by the legislation. In a statement released by the Clinton campaign, Clinton said:
HRC spox on ACA premium hikes: HRC "wants to build on the progress we've made and fix what's broken, while... Trump would rip up the ACA' pic.twitter.com/T5ZL7BGfD9

— Dan Merica (@danmericaCNN) October 25, 2016
The Affordable Care Act has been an ongoing political liability for Democrats since its passage, as it has been broadly and consistently unpopular in spite of Democratic efforts to tout its successes. According to the RealClearPolitics average of polling, the ACA has been consistently opposed by a wide plurality of Americans since its passage. Republicans made opposition to the act a signature part of their congressional campaigns in 2010 and 2014 en route to scoring unprecedented victories at the federal and state levels.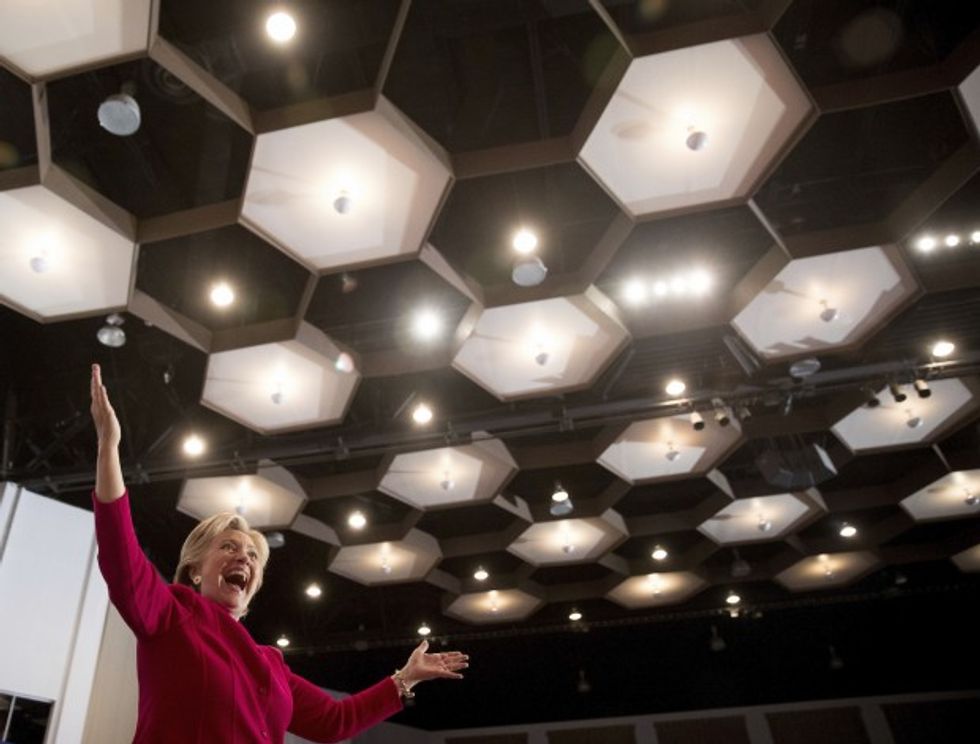 Democratic presidential candidate Hillary Clinton reacts to supporters after speaking at a rally at Broward College in Coconut Creek, Florida, Tuesday. (AP Photo/Andrew Harnik)
Clinton's statement reflects two realities: first, that her voting base wants her to stand behind the act publicly; and second, that Clinton feels comfortable enough with her lead over Donald Trump to stand behind the ACA even as it faces difficulties beyond the premium increases. This year has seen many of the Obamacare state exchanges fail, and private insurers who are participating in the program have asked the government for taxpayer bailouts, claiming that their participation in the act threatens their fiscal solvency. Additionally, exchange customers have found their provider options limited as medical providers have announced that they will no longer accept Obamacare exchange coverage.
Obamacare likewise suffered a public relations black eye when Blue Cross/Blue Shield of Tennessee announced that it had lost $500 million participating in the program's exchanges and would no longer offer coverage to residents of Tennessee's three largest cities — Memphis, Nashville, and Knoxville.