A U.S. Army veteran is being forced to pay back thousands of dollars she received as a bonus from the military a decade ago — but she's not the only one facing a broken promise from Uncle Sam.
"I gave my time that I will never get back, and now they want their money back," retired Master Sgt. Susan Haley, who spent 26 years in the Army, told KTBC-TV.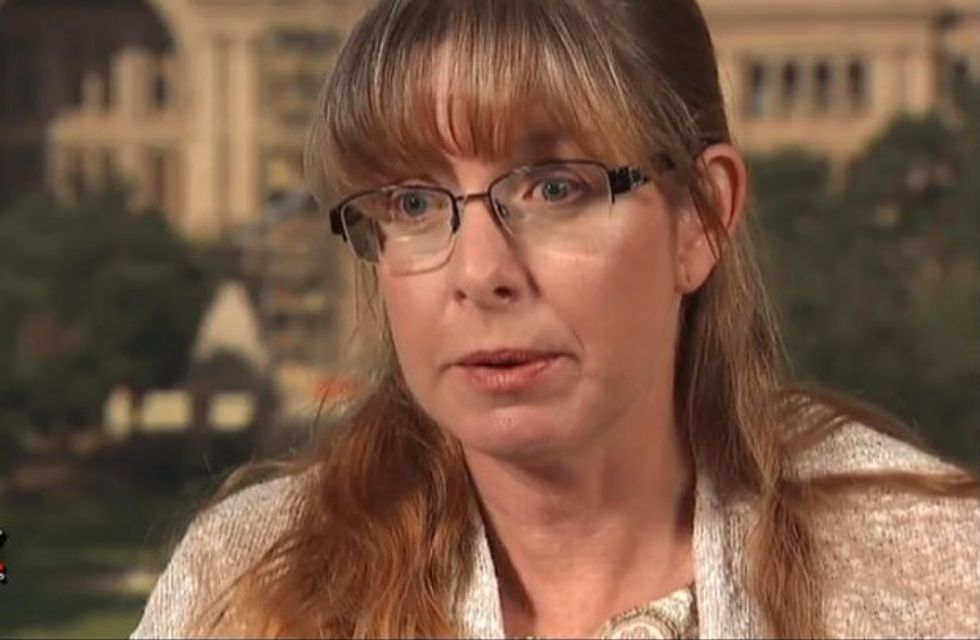 Retired Master Sgt. Susan Haley (Image source: KTBC-TV)
Haley now lives in central Texas but lived in California at the height of America's wars in Iraq and Afghanistan. At the time, the California National Guard was struggling to re-enlist enough troops to meet its demand, so the state added a $15,000 financial incentive for those willing to sacrifice it all in service to their country.
"I volunteered for my first deployment because they needed me. I volunteered for my Afghanistan deployment because they needed me," Haley said.
But a federal investigation in 2010 found the funds were awarded improperly, and the Pentagon is now asking the more than 10,000 soldiers who received the incentives to pay the money back — with interest. That means Haley and her family now owe the government more than $20,000, an egregious amount she says they just can't repay.
"We are literally broke," Haley told KTBC-TV. "We don't have any more savings. We're using our emergency savings fund to pay this bill every month. If this continues, we won't be able to make our house payment."
House Minority Leader Nancy Pelosi (D-Calif.) sent a letter to House Speaker Paul Ryan (R-Wis.) Monday, asking that Congress intervene in the Pentagon's debt collection efforts after the Nov. 8 election. The letter stated:
These brave Californians were willing to give everything to serve our country, and they earned every penny and benefit given to them. The overpayment of enlistment signing bonuses by the Department of Defense should not be the responsibility of our service members or veterans to pay back, years after the fact.
California's two Democratic senators, Dianne Feinstein and Barbara Boxer, also requested that the military forgive the debt, which amounts to millions:
These men and women voluntarily reenlisted with the understanding that they would receive substantial bonuses. The Department of Defense should use its existing authority... to waive the repayment of these enlistment bonuses" and "help those service members who have already fully or partially repaid these incentives.
The California National Guard said it doesn't have the power to forgive the debts but told soldiers they can legally appeal their cases to the National Guard Bureau, the federal agency that oversees the 50 state Guard organizations. But that requires them to spend even more money for an outcome that is all but certain.
"They're just playing these games to try and get out of it. So yea, we're responding. ... We're hoping that somebody in Congress will stop all of this before we have to keep going through court and stop it for soldiers across the whole U.S.," U.S. Army Special Forces Sgt. 1st Class Robert Richmond told KTBC.