Fox News commentator Sean Hannity is so done with President Barack Obama and his family, he offered to send the outgoing first family on a one-way trip to Kenya or any other "country of your choice" — and on one of Donald Trump's airplanes.
Hannity's offer comes the day after White House Press Secretary Josh Earnest dodged a question about whether Obama would leave the country if the Republican presidential nominee wins the presidency next month, telling reporters, "He's working very hard to make sure that nobody has to leave the country as a result of an electoral outcome that the president doesn't support."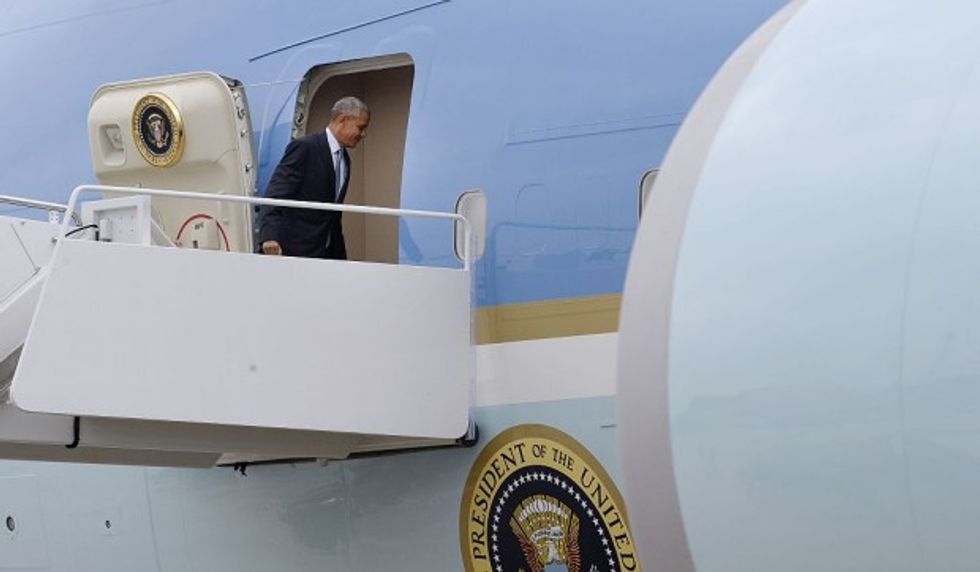 President Barack Obama (Olivier Douliery-Pool/Getty Images)
In response, the Fox host said Tuesday on his radio show that he would charter "as big a plane as Air Force One" for Obama because that's what he has "grown accustomed to" during his eight years in office. Hannity, an immovable Trump supporter, even said he might be able to convince the billionaire businessman to let the outgoing commander in chief use one of his airliners.
"I will charter a plane for you and your family. I will make sure it's as big a plane as Air Force One, what you have grown accustomed to, in other words. Taxpayer-funded plane. I don't know where I'm going to get — maybe I'll just — maybe I'll ask Trump if I can charter his plane for Obama," he said, continuing:
That's what — I will charter Donald Trump's plane if he'll let me, and I will charter it to the country of your choice. You want to go to Canada? I'll pay for you to go to Canada. You want to go to Kenya? I'll pay for you to go to Kenya. Jakarta, where you went to school back in the day, you can go back there. Anywhere you want to go. I'm gonna — I'll put the finest food, caviar, champagne, you name it. I have one stipulation: you can't come back. That's fair.
Of course, it's no surprise Hannity would like to see the president go. Earlier in the segment, the conservative host called Obama "unfit" for the presidency and asserted his administration has been the "worst presidency in our lifetime by far."
Hannity's suggestion that the Obamas fly to Kenya is a hat tip to a false claim that the president is not, in fact, an American — a belief that eventually morphed into so-called "birtherism," a movement spearheaded a few years ago by Trump.
Trump's previous support of the "birther" claim plagued his campaign so much that last month the GOP candidate held a press conference to concede that Obama "was born in the United States. Period."
Listen to the segment below: