Staffers on President Barack Obama's 2008 transition team allegedly didn't feel the need to be "nice" to outgoing President George W. Bush, according to an email published by WikiLeaks.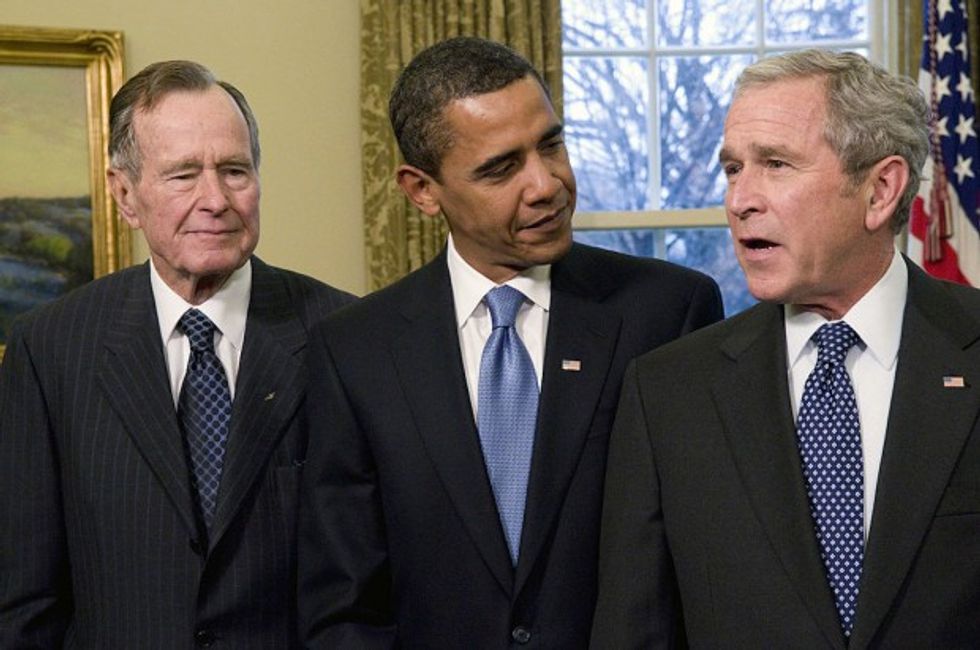 President George W. Bush makes a statement as former President George H.W. Bush and President-elect Barack Obama look on in the Oval Office Jan. 7, 2009. (Ron Sachs-Pool/Getty Images)
In response to an email regarding a campaign statement about Obama's visit to the White House after his victory, John Podesta, who was then an Obama transition adviser, suggested that the statement was too kind to Bush.
After staffers debated praising the Bush administration's efforts to ease the the housing crisis, Podesta replied, "We don't need to be this nice."
"He hasn't done nearly enough although they seemed poised to finally do more," Podesta wrote.
The statement in question read in part:
[T]he President-Elect praised President Bush for his administration's work on the housing crisis and encouraged the President to try to identify further steps, using existing authority, to help struggling homeowners restructure their mortgages and stay in their homes.
WikiLeaks has published a batch of emails purportedly belonging to Podesta, who is now campaign chairman for Democratic presidential nominee Hillary Clinton.
(H/T: Washington Examiner)