President Barack Obama will be hitting the campaign trail hard for Democratic candidates across the country to ensure people don't feel like they need to flee America should Republican nominee Donald Trump become president, White House press secretary Josh Earnest said Monday.
Earnest told reporters on Air Force One that Obama would "spend a significant amount of time" over the next week campaigning for Democratic nominee Hillary Clinton and other down-ballot Democrats.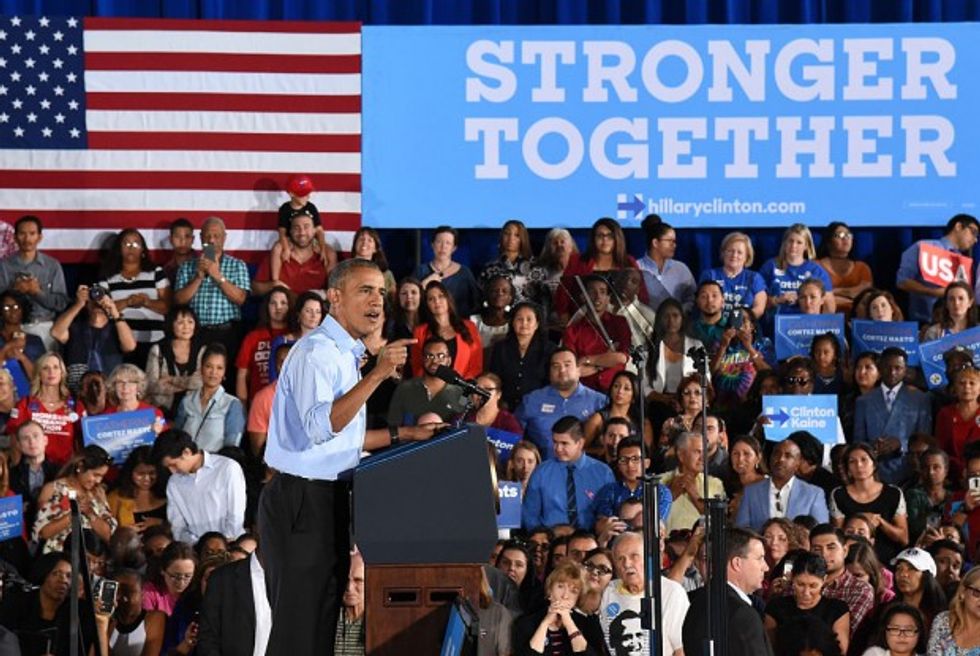 Getty Images/Ethan Miller
"He's working very hard to make sure that nobody has to leave the country as a result of an electoral outcome that the president doesn't support," Earnest said, according to Politico.
Obama was in San Diego on Monday urging Democrats to hand Clinton the White House in a big win over Trump.
"We've got to work as hard as we can, not just to make sure that Hillary wins, but to make sure she wins big, to send a clear message about who we are as a people, to send a clear message about what America stands for," Obama said, according to the New York Times.
"We don't just want to eke it out — particularly when the other guy is already starting to gripe about how the game is rigged," the president added.
Obama told the crowd of approximately 350 people that America cannot have a "fundamentally unserious person" as president whose "standards of ethics and tolerance" are "corrosive."
A number of celebrities, particularly outspoken liberals, have said they would leave America should Trump become president. According to Politico's report, a reporter also asked Monday if Obama would leave, but Earnest dodged the question.