Just more than one-third of Americans favor a ban on so-called "assault weapons," a Gallup poll found today.
Only 36 percent of Americans polled favor banning assault-style weapons, a drop from 44 percent in 2012 and 57 percent in 1996. Sixty-one percent of Americans now oppose an assault weapons ban, according to Gallup's 2016 Crime poll, conducted Oct. 5-9. Gallup polled a random sample of 1,017 U.S. adults, aged 18 and older, in every state.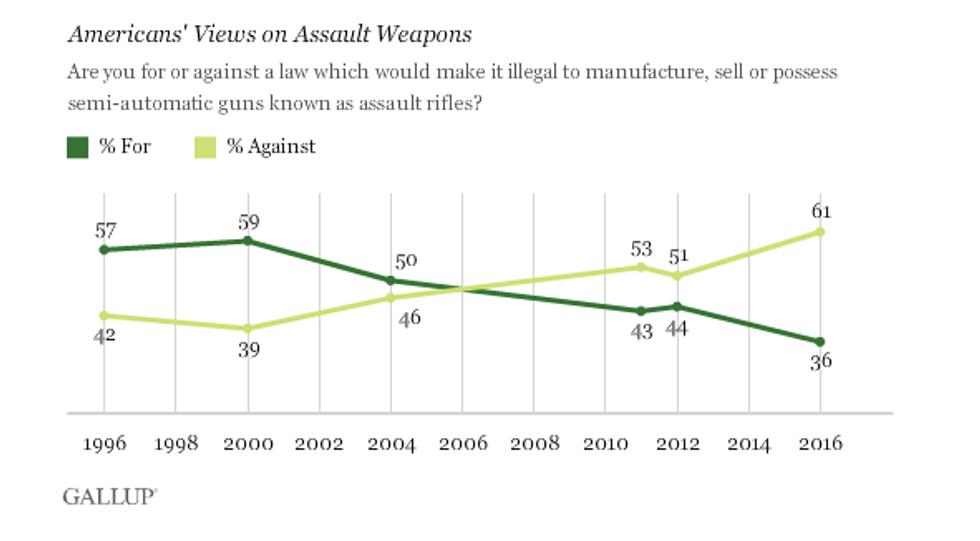 Screenshot from Gallup.
Beginning in 2006, more Americans opposed the ban than favored it — and opposition to the ban has been mostly increasing since then. Gallup starting asking about the assault weapons ban in 1996, two years after President Bill Clinton signed a federal assault weapons ban in 1994.
This year, 50 percent of Democrats and 25 percent of Republicans favor the ban.
Weapons collected in a Los Angeles Gun Buyback event are showcased in Los Angeles in 2012. (AP/Damian Dovarganes)
It's worth noting that support for the ban has fallen so dramatically among Democrats — since Democratic politicians are often the biggest legislative supporters of banning the weapons.
From Gallup's report:
It is striking -- and unusual -- that fewer Democrats than ever support an assault weapons ban, since the Democratic Party has been instrumental in pushing for stricter gun laws.

However, it is worth noting that a majority of Americans still believe there should be stricter laws governing the sale of firearms, even as they are reluctant to endorse a ban on handguns and assault weapons. In general, a majority of Americans say they are dissatisfied with the nation's gun laws, furthering the complexity of this issue.