The Democratic National Committee has filed a lawsuit against its Republican counterpart — all over repeated claims by GOP presidential nominee Donald Trump that the election is rigged.
Those comments by Trump, according to the suit the DNC filed in U.S. District Court in New Jersey Wednesday, suppress minority voters, and the Republican National Committee is culpable for enabling that. The DNC's suit states that the RNC has supported and enabled Trump and his campaign "to intimidate and discourage minority voters" in the 2016 election.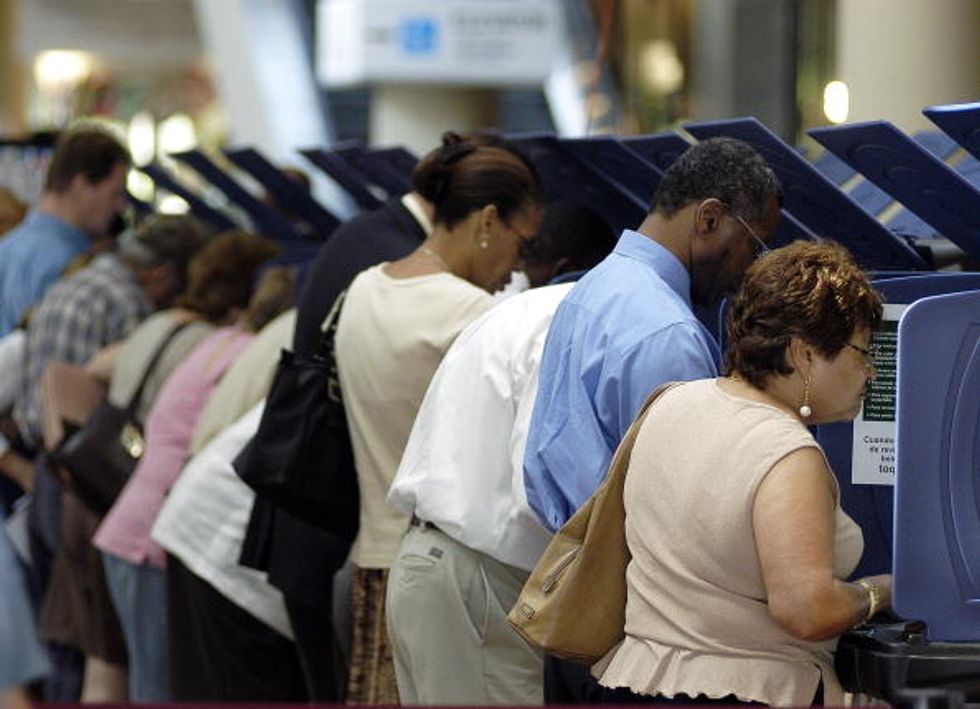 Hispanic voters go to the polls for early voting at the Miami-Dade Government Center in Miami, Florida. (Getty Images/G. De Cardenas)
"Trump has falsely and repeatedly told his supporters that the November 8 election will be 'rigged' based upon fabricated claims of voter fraud in 'certain areas' or 'certain sections' of key states," the suit alleges. "Unsurprisingly, those 'certain areas' are exclusively communities in which large minority voting populations reside."
The lawsuit contends:
Although certain RNC officials have attempted to distance themselves from some of the Trump campaign's more recent statements, there is now ample evidence that Trump has enjoyed the direct and tacit support of the RNC in its 'ballot security' endeavors, including the RNC's collaboration on efforts to prevent this supposed 'rigging' and 'voter fraud.'

In a rally in Denver, Colorado, on August 3, 2016, Trump's vice presidential running mate, Indiana Governor Mike Pence, admitted that the RNC was directly coordinating with the Trump campaign on 'ballot integrity' initiatives, stating that 'the Trump campaign and the Republican National Committee are working very very closely with state governments and secretaries of states all over the country to ensure ballot integrity.'
Trump has called for "poll watchers" on Election Day, a move that did not go unnoticed in the lawsuit:
The RNC's support of Trump's efforts to recruit "watchers" who are intended to intimidate voters at their polling places violates this Court's Consent Decree as modified in 2009, which explicitly forbid the RNC from engaging in so-called "ballot security" measures directly, indirectly, or through its agents or employees.
The Washington Times reported Wednesday that GOP poll watchers sign ups have surged in recent weeks amid growing concerns of voter fraud cultivated by Trump.
Trump trails Clinton by 5.4 points nationally, according to Real Clear Politics' aggregated polling data.