Had the People magazine writer who detailed her story of sexual abuse at the hands of Donald Trump done so years ago, she would have won a Pulitzer Prize, the Republican presidential nominee said in an interview posted Thursday.
Natasha Stoynoff, a former reporter for the magazine, wrote a detailed first-person account earlier this month of an alleged encounter she had with Trump in 2005. Then, Stoynoff said, Trump held her against a wall and forced "his tongue down [her] throat" before she was to interview him and his wife, Melania.
People has said it has six people who can corroborate her claims.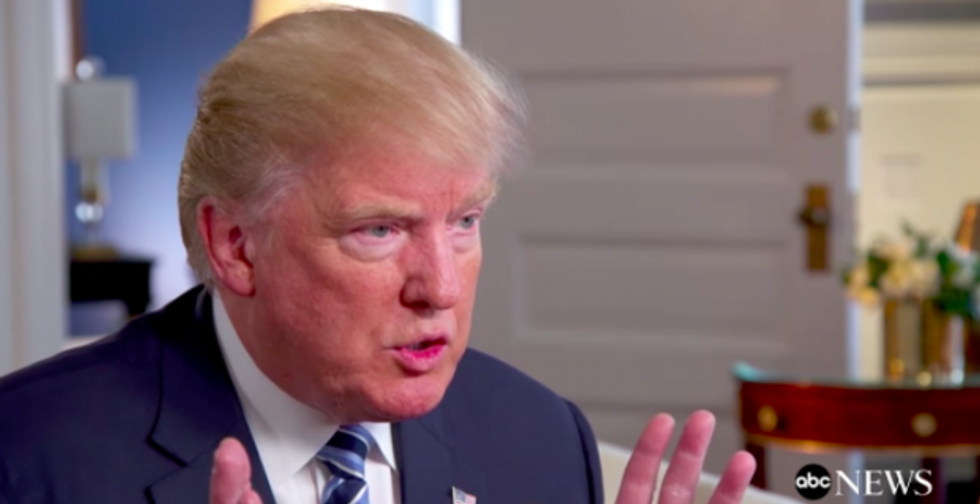 Image source: ABC News
Still, Trump called into question why Stoynoff waited until now to reveal this story with the world when he was asked about it during an interview with ABC's George Stephanopoulos that aired Thursday morning.
"Why didn't she write the story 12 years ago," Trump said.
When Stephanopoulos said it was because she was afraid, Trump shrugged it off.
"Oh, she was afraid? Give me a break. She was afraid to write it — she would have gotten the Pulitzer Prize, give me a break," Trump said.
He added that his former butler, whom he called "a good man," has discredited Stoynoff's story.
Trump also slammed Stephanopoulos during the interview for "still bringing up" the multiple sexual misconduct allegations against him.
"These were false attacks. These things never happened. These people, I don't know these people," a visibly upset Trump said. "These things never, ever happened."
Trump contended that the allegations against him were "made up" and peddled "probably by the Clinton campaign."
The Manhattan businessman has previously vowed to sue the women who have accused him of sexual misconduct, but on Thursday, he said "we'll find out" what happens on Election Day before making a final decision on that.