Earlier this week, the New York Times published a two-page spread of all the people, places and things Donald Trump has insulted on Twitter since launching his Republican presidential campaign.
But that's "OK," the Republican presidential nominee said Thursday morning, since "most" of the people he insults on social media "deserve it."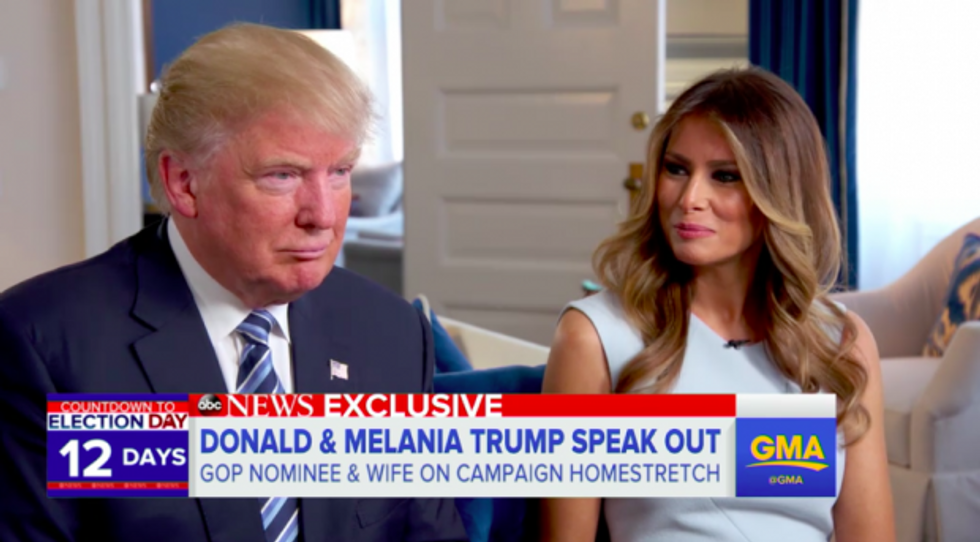 Image source: ABC News
In an interview that aired Thursday morning on ABC's "Good Morning America," Trump argued that "people are hurt so badly by new social media." Trump's wife, Melania, has said that she would like to address the negativity and bullying in social media as First Lady.
But when host George Stephanopoulos brought up the litany of people Trump has insulted on Twitter — detailed in the Times spread — Trump said, "Well, it's OK. Most of them deserved it."
Trump also quipped that he was "surprised" Stephanopoulos was not one of victims of his Twitter tirades.
"I can't believe I didn't include you," Trump said with his wife by his side.
"I believe in fighting back when people are against me, when they tell lies," Trump said. "I have the power of this instrument, and frankly, sometimes I'll use that."
WATCH: "People are hurt badly by social... most of [people he has insulted] deserved it." - Trump on social media https://t.co/ZuOiEvApbG

— Good Morning America (@GMA) October 27, 2016