Politico ran a story Thursday night that suggested that Republican presidential nominee Donald Trump's "Trump Victory" fund had transferred no money to the Republican National Committee in the month of October. The actual truth is that Trump has transferred about $2.2 million so far this month, along with several hundred thousand dollars to various state committees. It is not clear what caused the error, but Politico's site now reads:
This story has been corrected. An earlier version said the RNC did not receive any money directly from Trump Victory. POLITICO regrets the error.
Trump's fundraising is, by any measure, extraordinarily anemic as compared to former Republican nominee Mitt Romney's fundraising operation in 2012. Romney, the RNC, and affiliated super PACs jointly raised over $147 million in October 2012, as compared to just over $100 million jointly raised by President Obama, the DNC, and affiliated super PACs. The final figures for October 2016 have (obviously) not been released yet, but Trump's last reported total from the first 20 days of October shows that his campaign has raised almost $29 million this month. The RNC's fundraising has likewise been extraordinarily anemic this year, as compared to previous election cycles.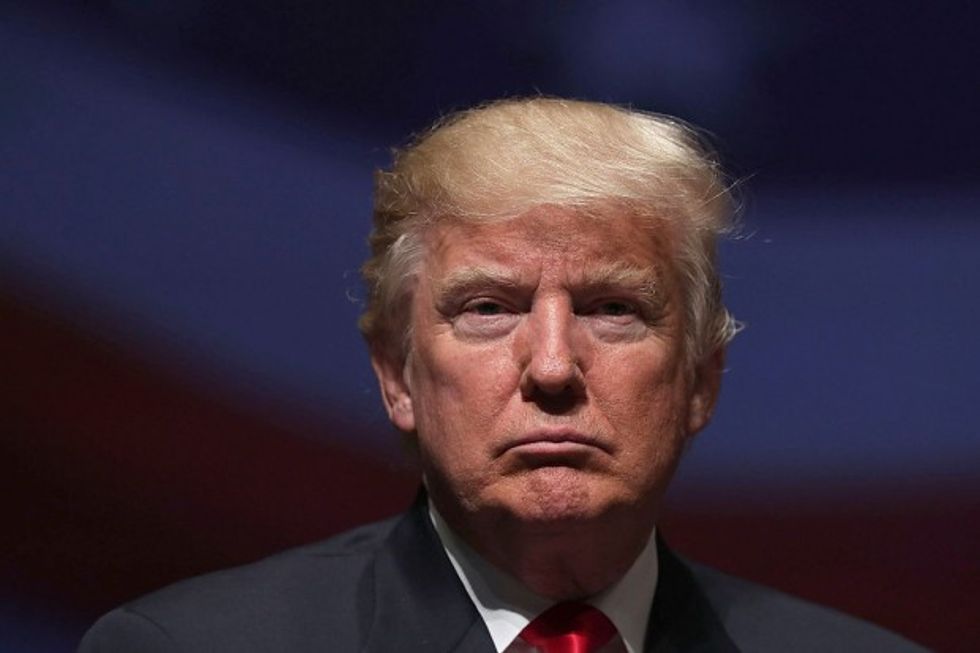 Getty Images/Alex Wong
The lack of joint RNC "Victory" funds is indeed a source of concern for many Republican candidates who are relying on the RNC's ground operation to help make up the gaps created by the lack of meaningful ground organization in the Trump campaign. However, it is flatly incorrect to state that the Trump campaign has given zero dollars to the joint victory fund, as Politico claimed.
RNC spokesman Sean Spicer blasted Politico in a series of tweets last night, which may have led to the correction:
This is not accurate. As usual @politico failed to even contact RNC https://t.co/i2o6Lod0Kz

— Sean Spicer (@seanspicer) October 27, 2016
really sad part of this story (aside fr the fact they never bothered to contact RNC) is that it shows how little they understand the process https://t.co/i2o6Lod0Kz

— Sean Spicer (@seanspicer) October 27, 2016
Embarrassing for @politico @iarnsdorf :top of pg 6948 of FEC report filed today shows Trump Victory transfer to @gop - glad to send a copy https://t.co/fTKUHbjzBo

— Sean Spicer (@seanspicer) October 28, 2016
actually Brad, you didn't own it - it took hours to get a story corrected, never mind the failure to check first https://t.co/YEqFUa130W

— Sean Spicer (@seanspicer) October 28, 2016