With the FBI reopening its investigation into former Secretary of State Hillary Clinton's controversial use of a private email server, Republican nominee Donald Trump admitted that maybe the election isn't quite so rigged after all.
Trump wasted no time bringing up the FBI's decision as he opened his New Hampshire rally Friday afternoon with the "very critical breaking news announcement" to cheering fans chanting, "Lock her up!"
"I have great respect for the fact that the FBI and the Department of Justice are now willing to have the courage to right the horrible mistake that they made," Trump said. "This was a grave miscarriage of justice that the American people fully understood, and it is everybody's hope that it is about to be corrected."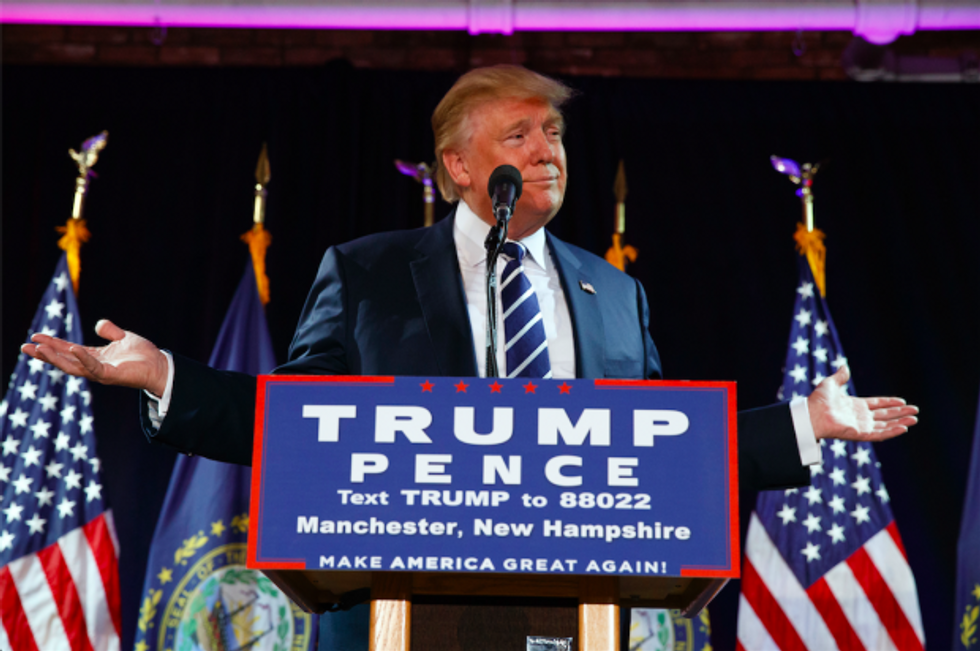 Republican presidential nominee Donald Trump speaks at a campaign rally in Manchester, New Hampshire, Friday. (AP Photo/Evan Vucci)
He added, "Perhaps finally justice will be done."
Trump, who is trailing his Democratic counterpart in the polls, has often alleged that the political system is rigged, and he has refused to answer if he will acknowledge a Clinton presidency in November should she win. But on Friday, Trump conceded that the system might not be that bad.
"With what I just announced previously," Trump said from Manchester, referring to the reopening of the investigation, "it might not be as rigged as I thought."
Trump contended that the FBI will "save their great reputation" if the organization "rights the ship" with its investigation.
Trump campaign manager Kellyanne Conway celebrated the news on Twitter, declaring it to have made the campaign's day:
A great day in our campaign just got even better. FBI reviewing new emails in Clinton probe @CNNPolitics https://t.co/WBltG2lAK6

— Kellyanne Conway (@KellyannePolls) October 28, 2016
The FBI announced Friday — with 11 days to go until the election — that it is reopening its investigation into Clinton's emails as it has "learned of the existence of emails that appear to be pertinent to the investigation."
FBI Director James Comey previously cleared Clinton in June and asserted then that "no reasonable prosecutor would bring" a case against Clinton.