Republican National Committee communications director Sean Spicer said Saturday that Huma Abedin, a longtime aide to Democratic presidential nominee Hillary Clinton, may have violated the law by retaining classified information after she left the State Department in 2013.
Spicer, during an interview with CNN, went so far as to physically display Abedin's OF-109 disclosure form that she signed when departing the State Department in 2013. By signing the form, Abedin acknowledged the "legal obligation" to "turn over all classified information and to further safeguard any further information that could be disclosed."
Abedin signed the form under penalty of law.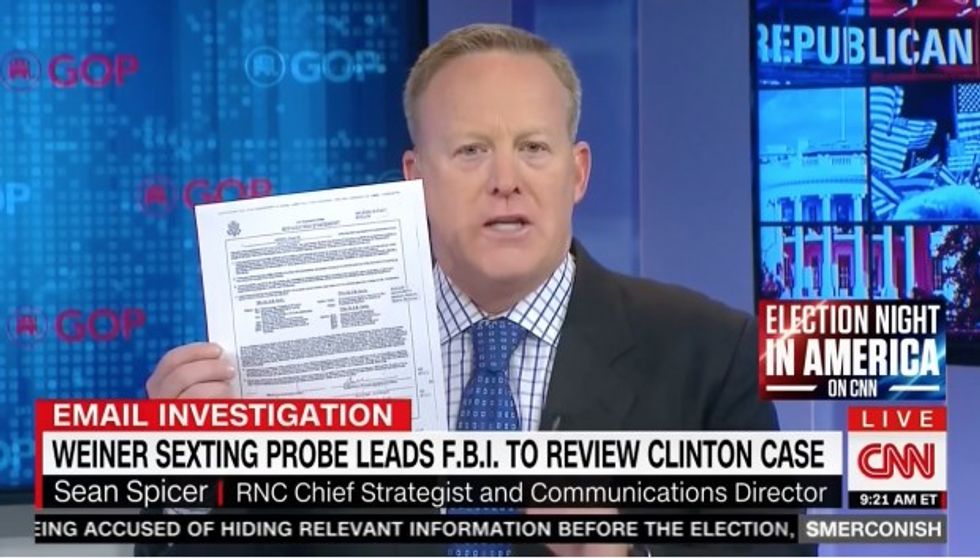 Image source: YouTube
Spicer said:
"Let's put this in context. Hillary Clinton initially said she turned over everything that was relevant. The only thing she didn't were emails regarding yoga and Chelsea's wedding.

We know that to be false.

Further, when Huma Abedin left the State Department they have to file a form of OF-109. It's a separation agreement that states simply people understand when leaving government that they are maintaining no classified information, they understand their legal obligation to protect further classified information and safeguard any potential disclosures of that."
Spicer added that he obtained the document through a freedom of information act request via the State Department.
The GOP strategist went on to explain that Clinton and her closest aides have time and time again said they've turned over all information related to the FBI's investigation of Clinton's use of a private email server, but that has proved to be false at almost every turn.
"We find additional disclosures over and over and over again, and the big message that people have to understand during this final ten days of election is you haven't seen anything yet," Spicer said.
Spicer continued on to say the overarching message here is that this latest revelation proves the Clintons play by one set of rules while everyone else is subject to another.
"For 30 years we've seen the Clintons tell us one thing and play by rules for themselves, and we will continue to see that with Hillary Clinton and her top aides," Spicer said.
Watch his full interview with CNN below: