President-elect Donald Trump's ascension to the White House was predicted by former President Richard Nixon — and Trump has a letter to prove it.
During the airing of "OBJECTified: Donald Trump" on Fox News Friday evening, Trump showed the letter Nixon wrote to him in 1987 urging him to run for political office — which predicted that if Trump did, he would win.
From Fox News Insider:
In the letter, Nixon congratulated Trump on an appearance on "The Phil Donahue Show," during which the billionaire businessman argued that the U.S. must be compensated for providing military protection to other countries.
"I did not see the program, but Mrs. Nixon told me that you were great," Nixon wrote to Trump. "As you can imagine, she is an expert on politics and she predicts whenever you decide to run for office you will be a winner!"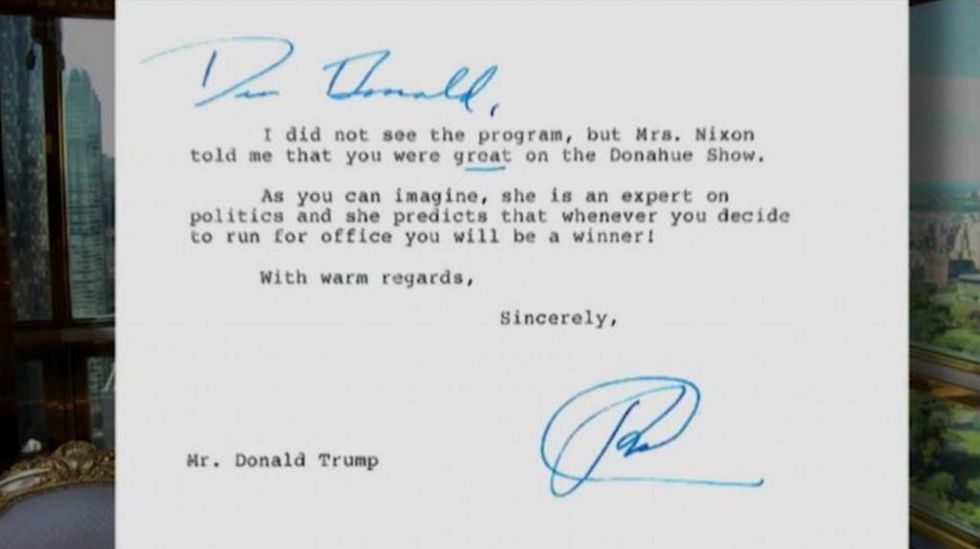 Former president Richard Nixon's letter to Trump. (Image source: Fox News)
Trump said of the letter, "It was just amazing that he wrote it."
The billionaire businessman added that he didn't know Nixon well, but was urged by Nixon many times to run for political office.
Watch the segment below: