The trauma, anxiety and sadness that blanketed liberal enclaves following Republican Donald Trump's unexpected victory over Democratic nominee Hillary Clinton in the 2016 presidential election is well documented — particularly on college campuses.
But students at the University of Virginia dealt with a bit more as they dejectedly trudged back to their dorms in the wee hours of Nov. 9 — four little words, loud and clear, blared bullhorn-style: "Make America Great Again!"
Who were the culprits? Rival students relishing Trump's victory?
Nope. Trump's campaign slogan was shouted from a campus police car's PA system.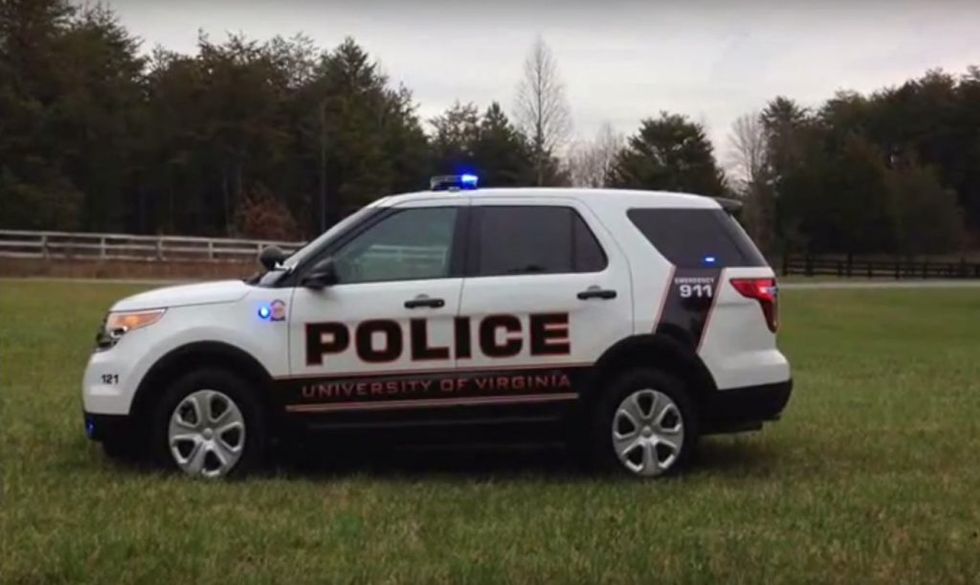 Image source: YouTube
Think students would endure this slight without a fight? Think again.
Three university police officers came under investigation over the incident, and then student protesters crashed the school's Board of Visitors meeting on Nov. 11 and issued to the suits a list of demands — among them firing the officers in question.
"We demand that they be fired, and we demand a reevaluation of our tuition dollars going to the University Police Department," one protester said, according to the school paper, the Cavalier Daily.
Well, the irked students didn't get all their wishes granted — but the investigation did conclude that one of the three officers abused the patrol car's PA system, the paper said.
And that officer has resigned, the Daily reported.
"We believe any reasonable person would conclude that the inappropriate use of the PA system undermines the department's goals and objectives and is detrimental to the department's operation and the efficiency of the department," a joint statement from Pat Hogan, university executive vice president and chief operating officer, and University Chief of Police Michael Gibson read, the paper said.
The statement added: "We expect officers of the University of Virginia Police Department to exhibit empathy and concern for community members, treating all with due dignity and respect."
As you might expect, some comments following news of the officer's fate were less than charitable to the university.
"This punishment is way, way out of proportion to what the officer did," one commenter wrote. "Plus: one must ask whether UVA would treat a Clinton or Obama supporter so harshly. Imagine that a UPD had said 'Hope and Change' just after the 2008 election. No way would he have had to resign."
Another reader said, "So you destroyed a person's livelihood because he spoke a sentence that gave you The Feels."
"Why aren't the officers just as entitled to express themselves as the pampered, coddled cry-babies currently holding their 'vigils'?" another asked.
In the wake of Trump's election, TheBlaze reported last week that University of Virginia faculty and students demanded President Teresa Sullivan quit quoting former President Thomas Jefferson, the school's founder, in her emails because doing so "undermines the message of unity, equality and civility that you are attempting to convey."