After a Tacoma, Washington, police officer was fatally shot Wednesday night answering a domestic violence call, the owner of the home where the incident occurred — and who witnessed the shooting — praised law enforcement and took to task those who might level racism charges against police.
"I would like to say that I don't want to hear anything about Black Lives Matter, because all lives matter," Kristi Croskey, who is black, told KING-TV. "I do not want to hear about the police officers being inhumane and shooting people [unnecessarily] or any of those things. I want to say that the Tacoma Police Department handled this matter with such professionalism despite their own being shot."
Croskey told KING she moved out of the house in question seven months ago after purchasing a new one and allowed the man police say shot the officer to stay there with his wife and two children. Croskey knew the suspect, a black man, through family and church. When she entered the home with police Wednesday before the shooting occurred to check on the welfare of the children, the
Seattle Times reported
the suspect opened fire. She was able to escape, the station added, and police
killed the suspect
after a long standoff.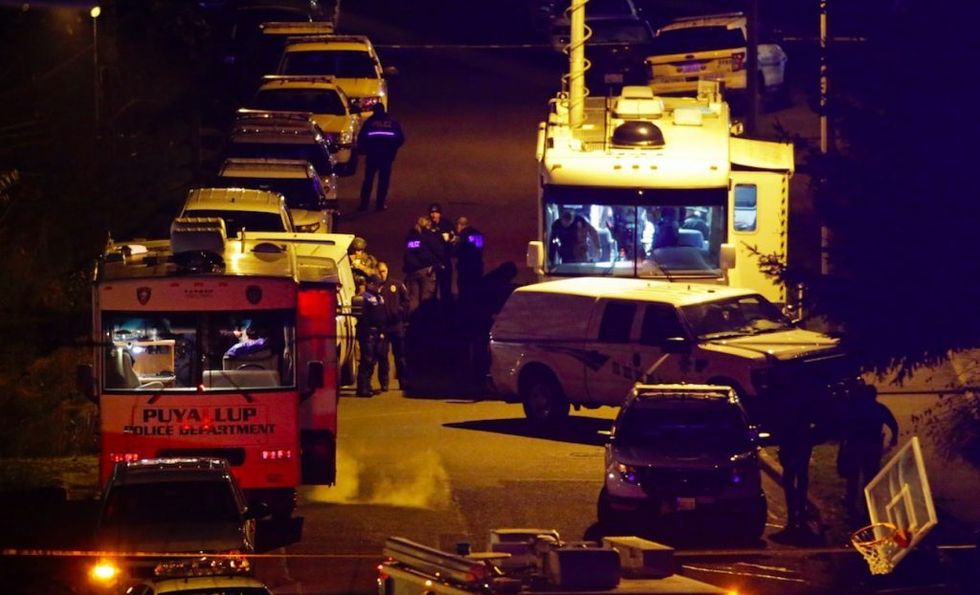 Law enforcement officers stand by command vehicles on East 52nd Street in Tacoma, Washington, early Thursday morning near the home where a Tacoma police officer was fatally shot Wednesday. (AP Photo/Ted S. Warren)
"And I want to say that this situation did not have to occur," Croskey added to KING, noting the suspect's "poor choices."
"I want you to know that the Tacoma Police Department did any and everything that they could to protect and serve," she continued telling the station. "They wanted to protect the life of him, his family and anyone else that was involved in this matter. I do not want to hear anything about the Tacoma Police Department did wrong, the Lakewood Department did wrong. I want people to start taking a long inventory of themselves and see what they did wrong."
The officer who was killed has been identified as Reginald "Jake" Gutierrez, the Times reported, and Croskey told the paper he put his life on the line to save his partner and the shooting suspect's wife.
Croskey told the Times that Gutierrez yelled, "Get out! Get out!" as shots came from upstairs. After Gutierrez was hit and fell to the floor, his partner returned fire and took the suspect's wife outside, the paper said, adding that Croskey hid in a downstairs bathroom before making her escape.
She went on to tell the paper that she didn't know there was a gun in the house and told the suspect before he moved in that weapons were forbidden. "I do not tolerate guns," Croskey told the paper. "I want nothing to do with them."
Still, Croskey said she found the suspect "intelligent, articulate and tech-savvy" and had no idea why he opened fire. "He was an overall good guy," she told the Times. "I am as surprised by this as anyone. I do not know what happened, but it just seemed to me like he was afraid."
More from the Times:
The gunman, identified by family and friends as Bruce Randall "Zeus" Johnson II, 38, was killed early Thursday morning by a sheriff's sniper following an ensuing 11-hour standoff in which police say he used his two children, ages 6 and 8, as human shields. Both children were rescued unharmed, said Tacoma police spokesman Ed Troyer. Police said they found several weapons inside the home.
One relative described Johnson as "troubled," the Times reported, adding that he took an anger-management class after a 2015 altercation outside a marijuana store in which he was carrying a handgun.
Johnson worked at Sam and Terry's Barbershop, the paper said, and a fellow employee noted Johnson looked "like he had the weight of the world on his shoulders."