This grand faux pas is on the entire Duke women's basketball team — players, coaches, hangers-on gathered around their home court bench. The lot of 'em who should've been paying attention.
Duke's opponent, Louisville, took the court before the second half of Monday's game, gathered around a basket and awaited an inbound pass and the opportunity to score. Of course, Duke joined Louisville on the court, gathered under the same basket and prepped to defend it, the Sporting News said.
Unfortunately for Duke, they were defending the wrong basket.
With that, Louisville's Mariya Moore caught the inbound pass, casually dribbled down the empty half of the court with a smile and scored an easy layup.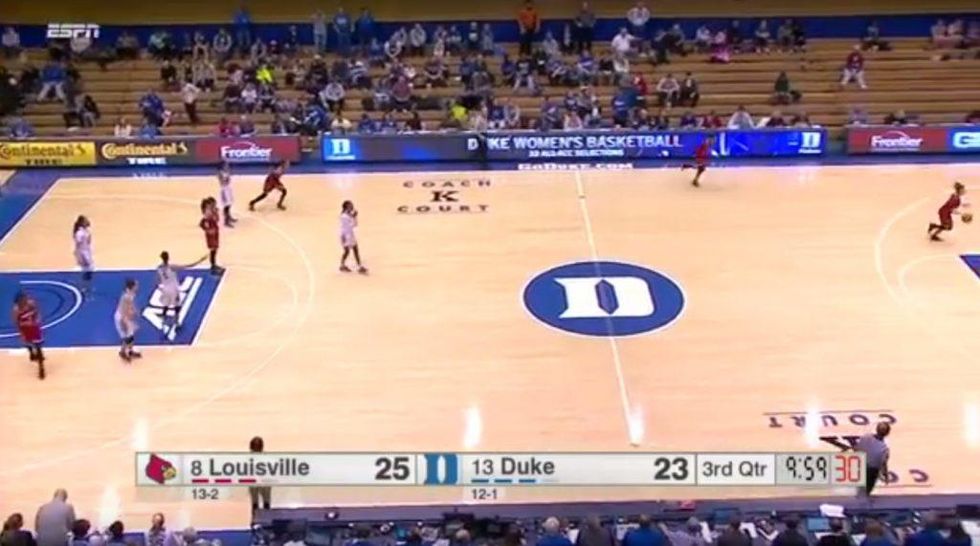 Image source: YouTube
In other words, Louisville knew what basket was the right one to start the half and figured they'd quick find out if Duke was awake — but they weren't. Duke got duped.
While players should know what basket is what to start the second half, that detail should be on the coaches' checklists all the more. Good thing Duke pulled out a 58-55 victory.
"I'm very proud of our team, because you have to be able to win ugly," Duke head coach Joanne P. McCallie said after the game, the Duke Chronicle reported. "You have to be able to make things happen when things are not looking very pretty."
McCallie's statement didn't seem to specifically reference her squad — and her — falling for a fast one, but it sure fits the circumstances.
Louisville head coach Jeff Walz told the Cardinals athletic website he called the play after watching Duke take the floor for warmups.
Duke's Lexie Brown shared with the Chronicle what she noticed about the Louisville players as their trickery was unfolding: "They lined up, they were, like, laughing at us, I was like. 'Why are they smiling?' Oh—layup."