It's no secret that so-called A-list celebrities aren't exactly chomping at the bit to attend or take part in Republican President-elect Donald Trump's inauguration two weeks from now.
However, in a diametrically opposed development, it appears those same celebs are readying right now for a big trip to Washington — for one final bash President Barack Obama and First Lady Michelle Obama are throwing Friday night.
The affair is for "close friends and major donors," the Washington Post reported, citing an unnamed source with knowledge of the closing-time shindig.
Who's rumored to be attending? While the Post said nothing is official yet, noting that a day-of-event statement is expected, names of some of the usual suspects have been popping up.
Of course Beyonce and Jay Z will show — plus, word is that they'll even perform at the party, the paper said.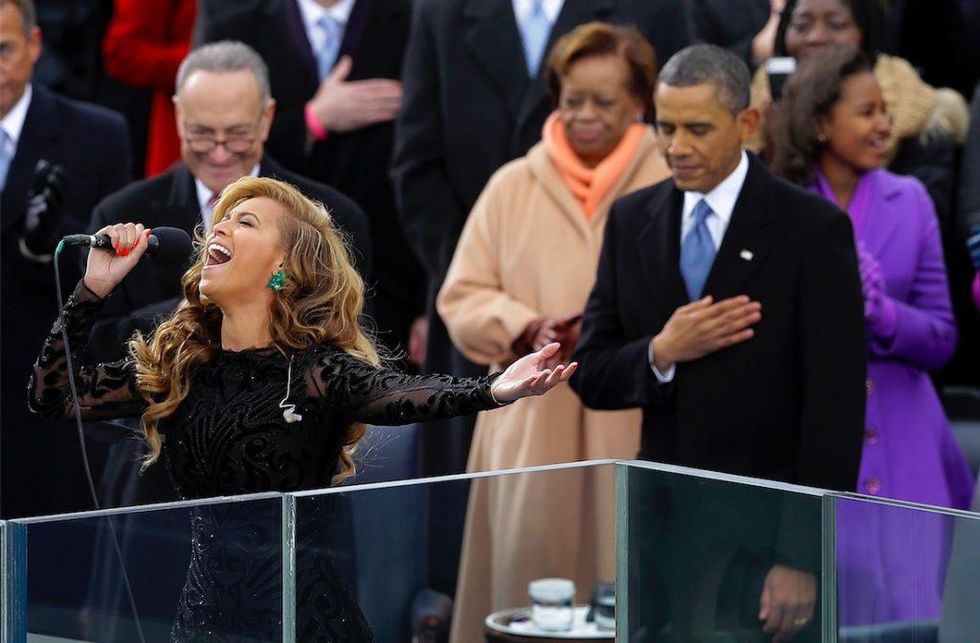 This Jan. 21, 2013, file photo shows President Barack Obama as Beyonce sings the National Anthem at the ceremonial swearing-in at the U.S. Capitol during the 57th Presidential Inauguration in Washington. (AP Photo/Carolyn Kaster, File)
You might catch of glimpse of Usher and Samuel L. Jackson, another source told the paper. Oprah Winfrey and her BFF Gayle King could make an appearance, too.
Bradley Cooper — the "American Sniper" actor who actually didn't raise the collective ire of "Republicans" by appearing at the Democratic National Convention last summer — is a rumored invitee.
Other names the Post tossed off are Stevie Wonder, as well as directors J.J. Abrams and George Lucas.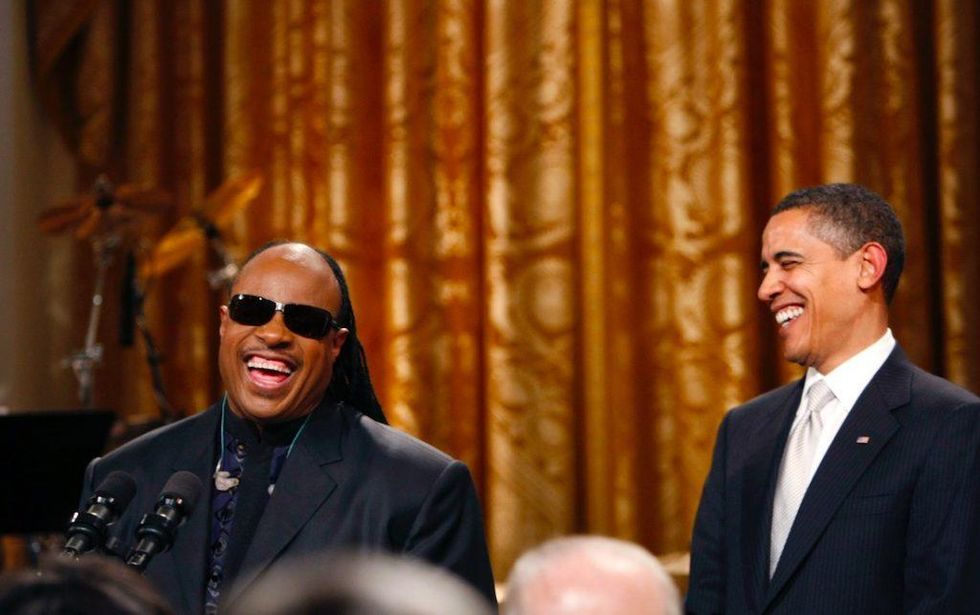 President Barack Obama presents Stevie Wonder with the Library of Congress Gershwin Award during "Stevie Wonder In Performance at the White House: The Library of Congress Gershwin Prize" in the East Room of the White House in Washington, D.C., Feb. 25, 2009. (AP Photo/Gerald Herbert)
According to Consequence of Sound, bigly folks such as Bruce Springsteen, Paul McCartney, Pearl Jam frontman Eddie Vedder and the happily retired David Letterman are making the trip to D.C. also.
And lest we forget, Chance the Rapper:
Bout to fly 21 hours to DC to bid farewell to the greatest president in US history. God bless you @Potus

— Chance The Rapper (@Chance The Rapper) 1483575050.0