A recently re-elected Massachusetts sheriff has an offer for President-elect Donald Trump: his inmates.
Bristol County Sheriff Thomas Hodgson, a Republican, said Wednesday night that he would propose sending inmates to the border to help build a wall between the U.S. and Mexico, a project Trump repeatedly campaigned on.
"I can think of no other project that would have such a positive impact on our inmates and our country than building this wall," Hodgson said during his inaugural ceremony, the Boston Globe reported.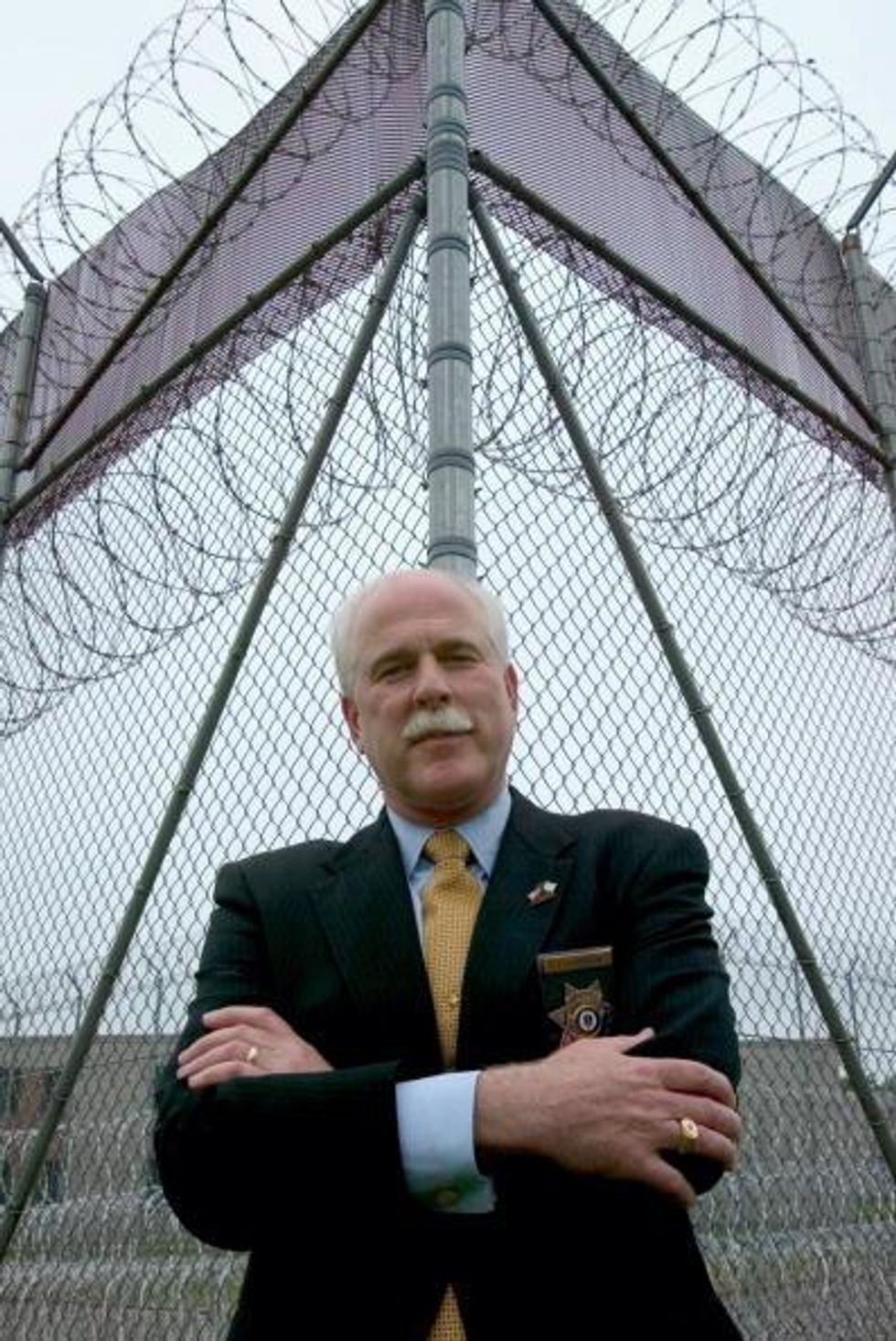 Bristol County Sheriff Thomas Hodgson (Melanie Stetson/Getty Images)
"Aside from learning and perfecting construction skills, the symbolism of these inmates building a wall to prevent crime in communities around the country and to preserve jobs and work opportunities for them and other Americans upon release can be very powerful," he added.
But while Hodgson was quick to offer up the manual labor, the Globe reported that he did not address the financial aspect of his offer or any logistics for the transportation and lodging of the Massachusetts inmates.
Hodgson said that he has spoken to the Trump transition team about his proposal but did not know if the new administration would accept the offer.
The Massachusetts American Civil Liberties Union strongly opposes the four-term sheriff's plan.
"The proposal is perverse. It's inhumane, and it's most likely unconstitutional. It's also likely an attempt by Sheriff Hodgson just to ride this wave and become famous nationally," Laura Rótolo, staff counsel with the organization, told the Globe. "I hope we don't have to take this proposal seriously."
"The idea of using modern-day slave labor to send people thousands of miles away from their Massachusetts home to build a wall to keep out other vulnerable populations, it's just preposterous," Rótolo said.
Republican Massachusetts Gov. Charlie Baker was on hand Wednesday night at the inaugural ceremony held at Bristol Community College. As the Globe reported, he did not speak to reporters at the event, but his office did release a statement that encouraged Hodgson to use inmate programs closer to the Bay State:
The Baker-Polito Administration is thankful for the valuable community service inmates in Bristol County have provided through work programs and would prefer they continue to offer those services closer to home. The administration has not been briefed on the sheriff's proposal.