Martin Shkreli, the former hedge fund manager who faces fraud charges and is almost universally loathed for jacking up the price of an HIV drug almost 5,000 percent, is in trouble again.
This time it's for being a creep on Twitter and harassing a young female reporter for Teen Vogue.
Lauren Duca, the reporter — who, ironically, faced off against Fox News' Tucker Carlson recently and defended the men who harassed Ivanka Trump and her children on a domestic flight — sent Twitter CEO Jack Dorsey a screen capture of a photoshop job Shkreli made replacing Duca's husband's face with his own.
"How is this allowed?," Duca asked Dorsey.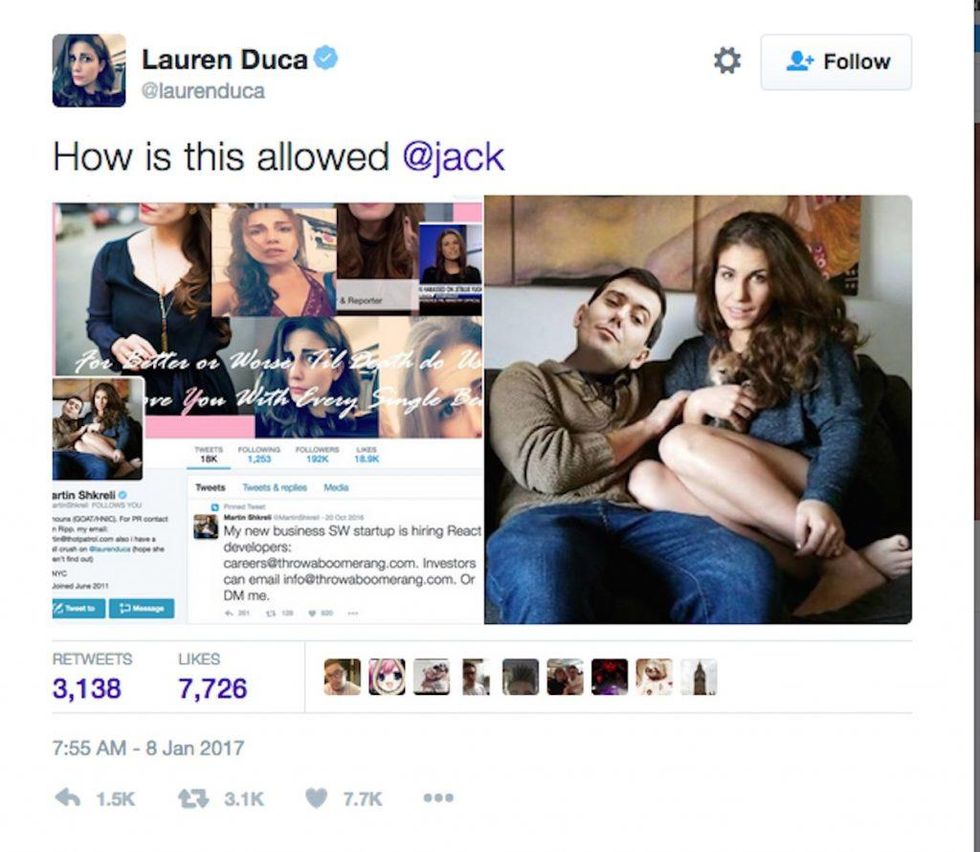 Image source: Twitter
But Shkreli wasn't done. CNNMoney reports:
The second screenshot showed Shkreli's Twitter background image: a montage of photos of Duca and text that said, "For better or worse, til death do us part, I love you with every single beat of my heart." Those are the lyrics to a popular '90s love ballad.

In addition, Shkreli's Twitter bio read that he had a "small crush" on Duca. "Hope she doesn't find out," it said.
Shkreli also reportedly directly messaged Duca using the platform and asked if she would be his date to the Trump inauguration.
"I would rather eat my own organs," Duca tweeted regarding the invitation.
Twitter temporarily suspended Shkreli's account Sunday for "targeted harassment."
Shkreli is due to stand trail for fraud in June related to "securities fraud and conspiracy for allegedly deceiving investors about his disastrous financial performance as a hedge fund portfolio manager," CNNMoney reports.
Duca is the author of a Teen Vogue article, "How Trump is Gaslighting America," that went viral in December.