When filmmaker Spike Lee learned that a black singer whose music he'd been considering for one of his projects agreed to perform at the inaugural for Republican President-elect Donald Trump, the outspoken director pulled the plug.
Chrisette Michele, who won a Grammy for her 2009 song "Be OK," apparently isn't OK with Lee, who posted his decision on Instagram Thursday.
"I Wuz Sorry To Read That 'Sistuh Girl' Is Singin' At DT's Inauguration (And To Use His Fav Word-SAD)," Lee wrote. "I Wuz Thinkin' 'bout Using Chrisette's Song- BLACK GIRL MAGIC In My Netflix Series SHE'S GOTTA HAVE IT.... NOT ANYMORE. And Dat's Da Truth, Ruth."
The likes of Jennifer Holliday and the Bruce Springsteen tribute group the B Street Band pulled out of promised performances in the face of opposition; blind tenor Andrea Boceilli — a friend of Trump's — decided not to sing after receiving death threats.
But Michele apparently isn't backing down or giving in — and the 34-year-old singer-songwriter told fans Thursday exactly why.
"My heart is broken for our country, for the hopes of our children, for the fights of those who came before us," she wrote on social media. "I cry at the thought that Black History, American History might be in vain."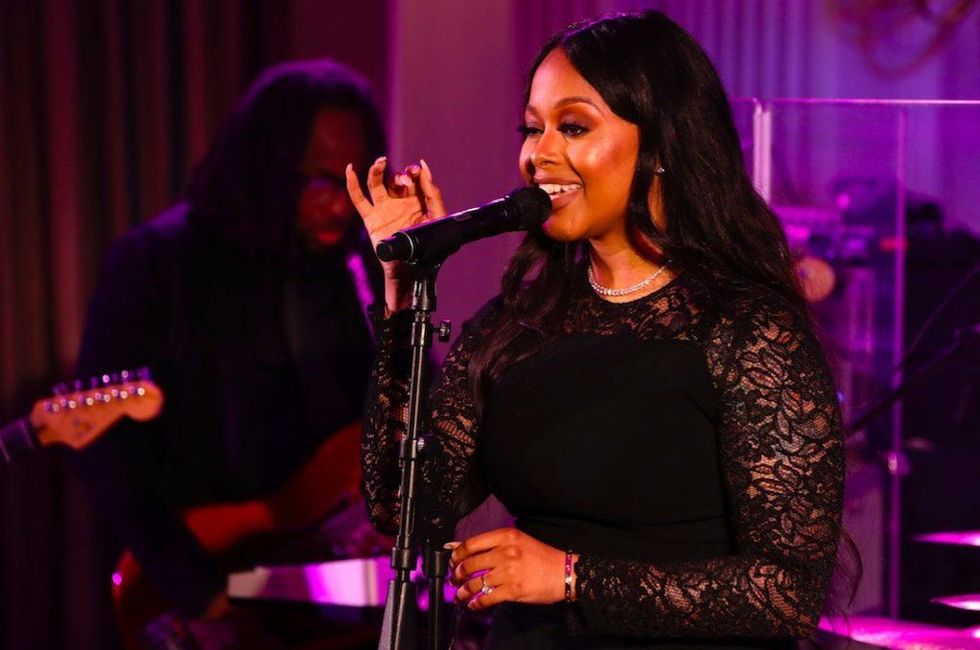 In this Aug. 2, 2016, file photo, singer Chrisette Michele performs for President Barack Obama, first lady Michelle Obama, Singapore's Prime Minister Lee Hsien Loong, and his wife Ho Ching, in the State Dining Room of the White House during a state dinner in Washington. (AP Photo/Jacquelyn Martin, File)
"Today, I hope that Great Moments begin in peaceful & progressive conversation," Michele continued. "I am willing to be a bridge. I don't mind 'These Stones' if they allow me to be a voice for the voiceless."
Here's the music video for Michele's "Be OK":
(H/T: New York Daily News)