Following the election of Republican President Donald Trump in November, protesters in Portland, Oregon, seemed to have a field day — rioters smashed windows, set fires and blocked a couple of freeways.
But when Trump took office last Friday, things didn't go as smoothly for protesters as Portland cops used pepper spray and tear gas on them, KPTV-TV reported.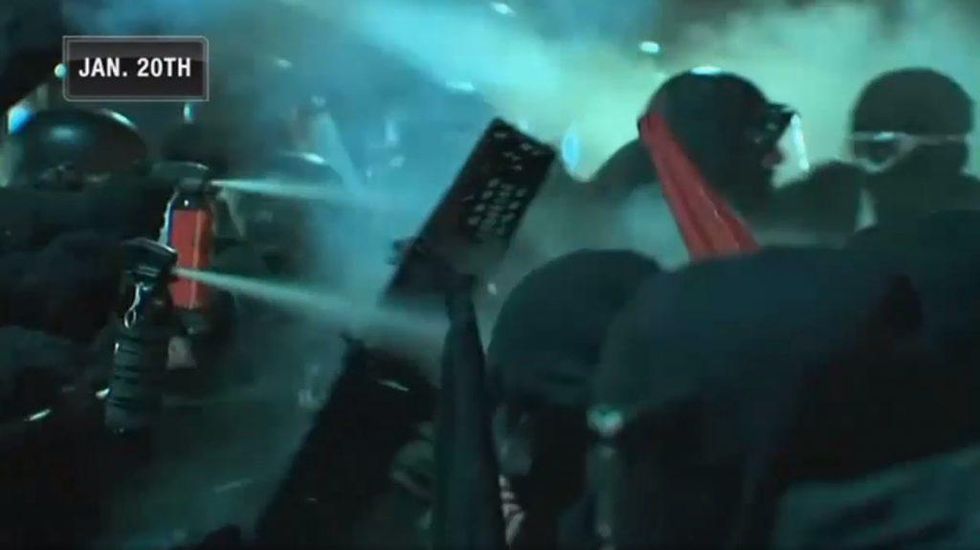 Image source: KPTV-TV screen cap
Upset about how officers handled things on Inauguration Day — and wanting the police chief fired — a group of protesters decided to gather in a downtown Portland intersection to block traffic on Wednesday.
Specifically they stood in front of a bus — one of them was even seen climbing up the front bumper and resting on the windshield as a bystander yelled, "Get the f*** off the bus!"
His wish was granted.
As a cellphone camera rolled, police officers in riot gear were seen marching up the street toward the bus: "Here they come!" one voice cried out.
Moments later — boom.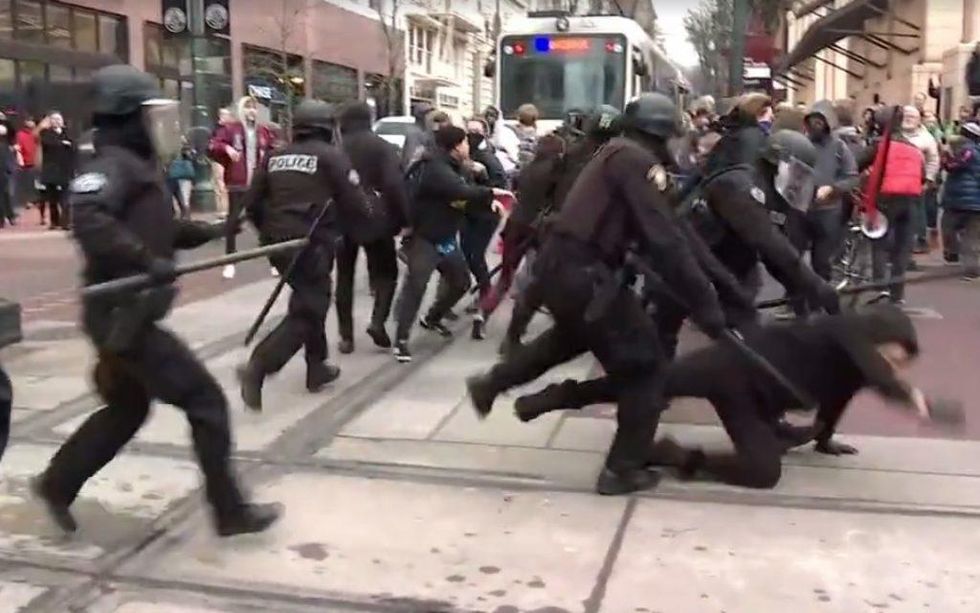 Image source: KPTV-TV screen cap
With their batons out, the officers descended upon the protesters and toppled most of them to street in a matter of seconds.
"Take 'em all down! Take 'em all down!" one clearly frustrated onlooker was heard saying as a smiling older woman gave the cops a thumbs up and others applauded.
Check it out: (Content warning: Rough language):
"Thanks for doing your job, guys!" a voice hollered to the officers. "I appreciate it."
Here's the takedown from another angle. (Content warning: Rough language):
Cops just showed up, tackle people in street. People on sidewalk cheer. @fox12oregon https://t.co/7MQLLZ6v91

— Kelsey Watts (@Kelsey Watts) 1485387535.0
Here's more of what preceded the officers' arrival. Protesters apparently tried to prevent another vehicle from leaving the intersection. (Content warning: Rough language):
Well that got heated quickly.@fox12oregon https://t.co/ba5fQ4LEYq

— Kelsey Watts (@Kelsey Watts) 1485387068.0
And another blocked vehicle:
Right now on SW Yamhill & 6th. Woman behind me: "some of us just want to get home." @fox12oregon https://t.co/t4whDZiNko

— Kelsey Watts (@Kelsey Watts) 1485386674.0
Portland police said 14 people were arrested during multiple protests Wednesday, KPTV-TV reported.
Protesters at the intersection who managed to avoid arrest were heard planning to form smaller groups and continue demonstrating, KPTV reported. One group got on a train, marched across a bridge and then down a boulevard, blocking traffic, the station added.
Others were seen wearing gas masks, and a group tried pulling a dumpster into a street, KPTV said.
Earlier Wednesday protesters disrupted a city council meeting before Mayor Ted Wheeler agreed to meet them outside City Hall afterward, the station said, adding that during the get-together, the mayor got an earful of angry inquiries from the protesters for about 30 minutes.
Reaction to Wednesday's police response?
"I believe that standing up for what you believe in is right, but stopping traffic isn't the way to do it," Molly Nelsen told KPTV.
"Some of the arrests are probably necessary to help the people around, but others may be taken too far," Angela Wyatt told the station, adding that she sees "where they're coming from and how they're viewing the situation as something that will affect their lives negatively, but there are also different and more positive outcomes instead of obstructing other people's lives."
(H/T: The Daily Caller)