A female supporter of Republican President Donald Trump was pepper-sprayed during an on-camera interview with KGO-TV amid rioting at the University of California, Berkeley, Wednesday night.
"I'm looking to make a statement by just being here, and I think the protesters are doing the same," Kiara Robles told the reporter. "Props to the ones who are doing it non-violently, but I think that's a very rare thing indeed."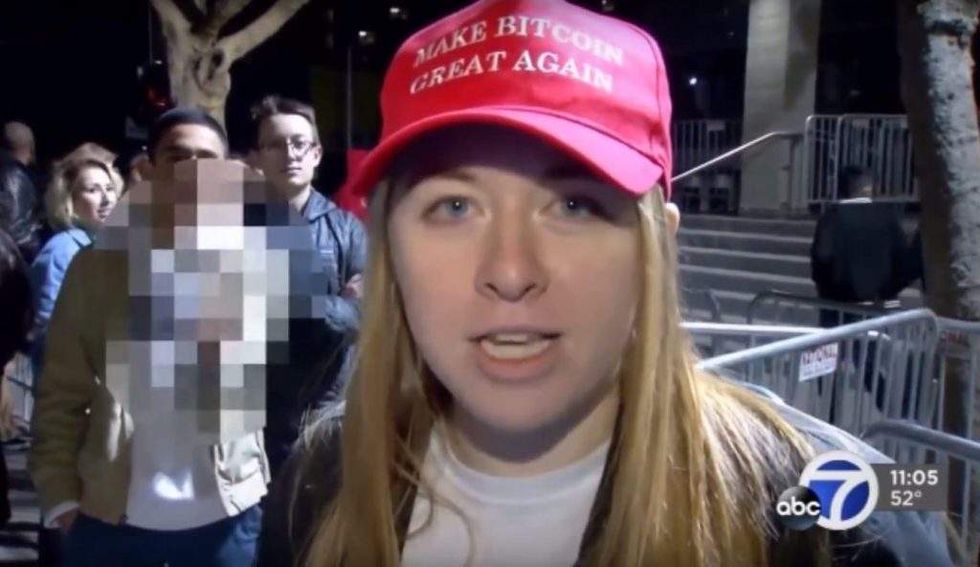 Kiara Robles (Image source: YouTube screen cap)
Seconds later, she was hit with the pepper spray.
Robles was wearing a red baseball cap with white lettering on the front — "Make Bitcoin Great Again" — but it likely looked enough like Trump's campaign cap to the black-gloved culprit, who quickly took off after pepper-spraying her.
Woman attacked by a Man in #Berkeley. If you know him contact @UCPD_Cal ASAP. https://t.co/o2gU7w7zOO https://t.co/gnoUNHduqI #LockHimUp

— ✨KAL ..the🎯riginal 🏹 (@✨KAL ..the🎯riginal 🏹) 1486021659.0
She told KGO soon after that she was alright.
Here's a look at the incident from a different angle, captured by a friend of Robles:
My friend was giving an interview when some coward peppersprayed her #Berkeley https://t.co/CDpEqDsw2A

— janey (@janey) 1486006785.0
The protesting that turned into rioting came after the cancellation of a campus speech by conservative pundit Milo Yiannopoulos, whose controversial and provocative lectures on college campuses over the last year targeted liberals and feminists and led to numerous protests.
Officials held a news conference amid the rioting and indicated it wasn't a proud moment for Berkeley, KGO reported.
Robles posted a photo to Twitter after getting pepper-sprayed:
We survive the peaceful protests. Glad to see intellectual debates are valued at UC Berkeley. 😉 #MiloAtCal https://t.co/RRVgu9Q269

— Kiara Bickers (@Kiara Bickers) 1486008877.0
(H/T: The Daily Caller)