Gayle McCormick is a retired California prison guard who described herself to Reuters as a "Democrat leaning toward socialist."
Problem is, her husband of 22 years is anything but.
Worse yet, McCormick told the outlet that during a lunch with friends last year, her husband said he was planning to vote for then-presidential candidate Donald Trump.
The 73-year-old told Reuters that her husband's stated support for the Republican was a "deal breaker."
"It totally undid me that he could vote for Trump," McCormick told the outlet, adding that she never considered leaving her husband before but felt "betrayed" by his support for the billionaire businessman.
"I felt like I had been fooling myself," she added to Reuters. "It opened up areas between us I had not faced before. I realized how far I had gone in my life to accept things I would have never accepted when I was younger."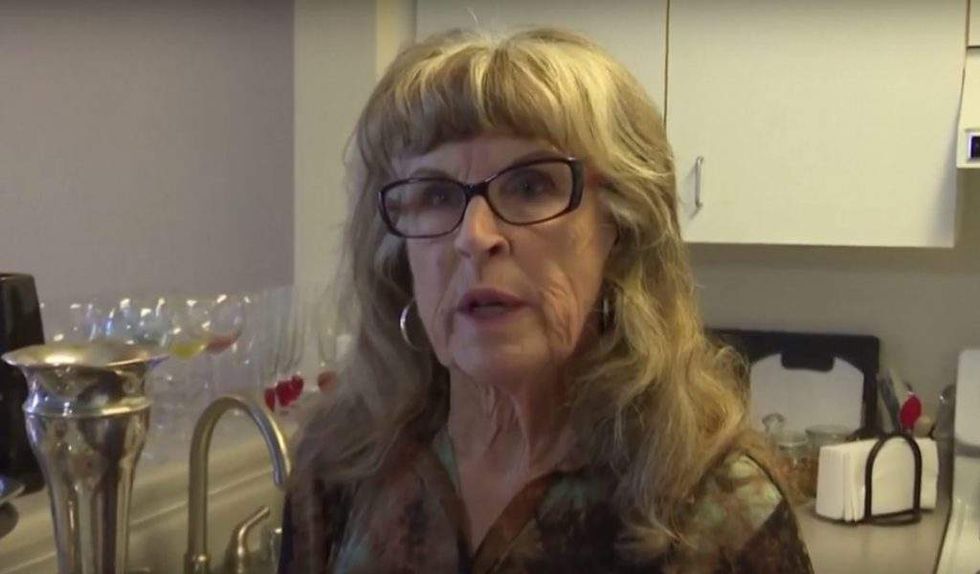 Gayle McCormick (Image source: YouTube)
While McCormick told the outlet that her husband eventually changed his mind about Trump — casting a write-in vote for former House Speaker Newt Gingrich — the damage had been done, and she had already made up her mind.
McCormick separated from her husband and is now living on her own in Bellingham, Washington, Reuters reported.
She said they're "too old" to get divorced and will still vacation together, but McCormick wants a less contentious political backdrop.
"It really came down to the fact I needed to not be in a position where I had to argue my point of view 24/7," McCormick told Reuters. "I didn't want to spend the rest of my life doing that."
Turns out she also was uncompromising on Election Day: McCormick cast a write-in vote for far-left icon Bernie Sanders rather than Democratic nominee Hillary Clinton, the outlet said.
McCormick and her husband are far from alone, as a recent Reuters/Ipsos poll points to "a widening of the gulf between Republicans and Democrats and a hardening of ideological positions" — along with spikes in friends and family members arguing politics, stopping interactions and ending relationships altogether.
"Once people found out I had voted for Trump the stuff started flying," William Lomey, 64, a retired police officer in Philadelphia told Reuters, adding that he's no longer on speaking terms with a longtime friend after Facebook fights about the election. "I questioned him on a few things, he didn't like it, he blew up and left me a nasty message and we haven't talked since."
Sue Koren of Dayton, Ohio, told the outlet she supported Clinton and now hardly talks to her two Trump-supporting sons. She added to Reuters that she's unfriended on Facebook "maybe about 50" people who back Trump.
"Life is not what it was before the election," the 57-year-old told the outlet. "It's my anger, my frustration, my disbelief. They think our current president is a hero, and I think he's a nut."
George Ingmire, a New Orleans-based radio documentary producer, told Reuters an uncle he was close to supported Trump — but after things took a bad turn between them, Ingmire said he ended the relationship.
"We had some back and forth and it just got really deep, really ugly," the 48-year-old told the outlet. "I don't see this ever being fixed."
Is there a bright side amid all the rancor?
Illinois-based retiree Sandi Corbin told Reuters she's actually visited new friends she made due to their shared support of Clinton.
"We talk all the time now," she told the outlet. "I would say that's a plus from the election."